"I look out the window sometimes to seek the color of the shadows and the different greens in the trees, but when I get ready to paint, I just close my eyes and imagine a scene." But when you can barely see from the inside, you will most likely need your windows washed.
If you are on a tight budget, it is more likely that you would get it done by yourself. But if you are a busy bee, you might want to consider hiring a professional cleaner. Either way, you need to understand the cost that comes with them.
Presented below are the average window cleaning prices based on several variable factors.
Average Cost of Window Washing Supplies
You will be needing a budget of around $500-$600 for a complete set of cleaning supplies and tools that most independent professional window cleaners have. But you would not need as much if you do not intend to clean your windows more than twice a year and you have no intention of venturing into cleaning business yourself.
If you only plan to get the basics, you will just need the soap solution, squeegees, scrapers, towels, a ladder and extension pole. All are under $300.
Factors to Consider In Hiring a Professional Window Cleaner
Some window washing companies rate based on size. The bigger the window, the higher the charge since it naturally takes longer to clean them. Large glass panes of about 1000 square feet (8 each pane) usually take around an hour to clean and will be charged anywhere from $24 to $55.
Some windows are a lot more complicated to clean than others simply because there are some that are difficult to dismantle and much more intricate to reassemble. This fact is the main reason why Storm and French windows are typically priced higher compared to low-end Windows. Storm windows cost $20-$35 each to clean and French windows cost $9-$11. If you have multiple windows in an average 2,200 square feet home, the average cost to clean all windows would be around $220. Though there are companies, who would do the job at a promo price of $90-$100 for 25 windows for the exterior only.
How Dirty is Your Window?
Companies especially consider how dirty your windows are in their charges. This focus is due to the accompanying extra effort, possible use of chemicals and machines like steam cleaners and pressure washers. Average window cleaning prices for typical type range from $2 – $7 while paint or stain removal ranges from $3.50 – $6 extra per window. Mineral deposit removal can be charged up to $20 per pane on top of the regular fee.
Windows located in the third or fourth floor will be priced higher than your windows downstairs and second floor. It may be interesting to note that while there is no actual extra effort in cleaning the windows from these areas aside from taking the stairs, some companies charge extra $3 – $5 more for them. A markup of 10% up to 20% is to expect when your place is located on an uneven terrain if they are going to need ladders as well as safety gears.
Some professional cleaners charge per number of windows. Window cleaning companies charge in the vicinity of $4 for typical window up to $8 for the high end.
Which Side of the Windows
You may save half the charge when you decide which side of the window you would like cleaned. The outer part most likely you would want to be cleaned as these parts are most often dirtier than the interior. Since there is lesser need to clean them, you can postpone including them in the contract and save for future cleaning or just clean them up yourself. You might want them to be cleaned altogether if you feel it will need to be cleaned soon eventually and having free time is out of the question.
Be sure to be reading your contract thoroughly as the cleaning of the sills and tracks may not be included in the cleaning itself. If there isn't any stipulation, mostly likely, they will still clean them and therefore expect an extra charge anywhere between 50 cents to $5 per window.
Screen cleaning, if you have them can cost you $2 up to $5 each on top of the window rate depending on their quality.
Post-Construction Cleaning
After construction or renovation/remodeling, expect the charges to be around $1 higher than the usual cost to clean your window. If the windows were not included in the materials upgraded, it is worse after renovation since they are more prone to dust and dirt compared to a newly constructed house where most likely the new windows are still protected with covers and will only be exposed during installation.
Residential or Commercial
Cleaning commercial windows are typically priced lower than residential windows mainly because of competition. Businesses tend to canvass for the lowest possible bid. And since there are possibly more bidders, the better chances of getting very competitive bids. Price for commercial windows ranges from $1 – $2 per pane only. Also, windows in these spaces tend to be just the basic type or simpler compared to residential house windows and tend to have frequent visits from cleaners, so charges are proportionate to the effort to be exerted.
Depending on where you live, rates are different in every part of the country. Say for example in Utah; window washing companies rate $4 per window. In Texas, some companies charge $6 per window.
If you need to know the average cost to clean windows in your area, please visit this link.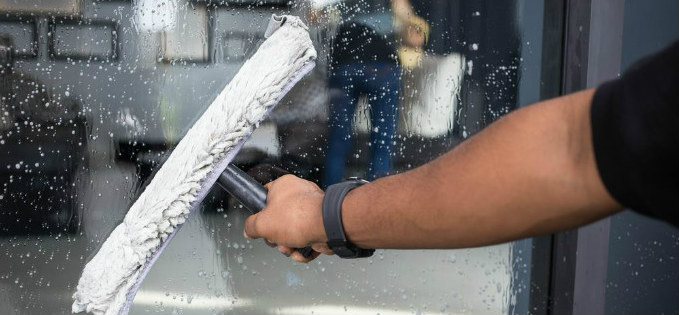 Decision-Making
How much does window washing cost? It will still depend on your decision. While you can always do it on your own or you have trust issues, you must also consider the fact that obtaining/buying all the materials plus the effort (compute your rate per hour if you are employed) would almost cost you the same amount as when hiring a professional.
The risk of accidents also plays a big part in the decision making. And why not? You might be using machines or might need to use a ladder for hard to reach windows. And since you are not skilled to do the job, accidents can happen. As they say, it is better safe than sorry.