Do you want to remedy noise in your space? Do you want to hide unsightly plumbing, wiring, ductwork, or uneven ceiling? Or do you just want to upgrade your boring ceilings? If you say yes to any or all of these questions, then installing acoustic ceilings or drop ceilings is the remedy to your predicament.
Drop ceilings are secondary ceilings that can improve the appearance of a room and can also minimize noise. Said ceilings are popularly used in commercial and residential spaces.
The affordability of the acoustic ceiling cost makes it a practical yet stylish solution to upgrade a room's look and feel. An acoustic ceiling is also easy to install, and there is a wide array of designs one can choose from.
Acoustic Ceiling Average Cost
On the average, the total acoustic ceiling cost is from $2.55 to $4.39 per square foot.
According to Strictly Ceilings, the average drop ceiling pricing is $2.55 per square foot. The figure covers the $0.40 to $0.70 per square foot for the basic-designed tiles, $0.85 per square foot for the standard grid cost, and $0.80 to $1.00 per square foot for the labor cost to install drop ceiling.
On the other hand, Armstrong Ceilings quotes the average  at $3.15 per square foot. The quote covers labor and materials.
While, for Philly Facility installation of suspension tile ceiling (2' x 2' T-bar grid system, acoustic tile, A Fire rated) costs $4.39 per square foot. This includes basic materials but not special purchases. Philly Facility has a minimum charge of $132.00 for work set-up to cover company expense for scheduled service, time and fuel.
With the wide range of designs, colors and other specifications for tiles or panels, it can be expected that prices will vary depending on the specifications. Expect to pay for costlier materials as well as labor for more complexed-designed tiles or panels or those with additional features. For instance, the following actual costs from retailers/distributors will show the varying prices:
Armstrong Ceilings sells plain white tiles (24" x 48") for less than $1.00 to $2.49 per square foot while more high-end tiles (24" x 48") cost from less than $1.00 to more than $9.00 per square foot.
Ceilume sells tiles from $1.49 per square foot ($5.95/tile of 4) to $3.44 per square foot ($27.45/panel of 8).
Inclusions
The all-in quotations of drop ceiling pricing from reputable ceiling companies include the the materials and installation as well. The primary materials in the acoustic ceilings are the panels or tiles as well as the standard grid for the drop ceilings.
The installation cost covers the cost of labor for the following:
Installing wall molding.
Suspending main beams with hanger wires.
Installing cross tees.
Installing ceiling panel.
Other Costs to Consider
Other Materials – Other materials may be needed such as edge details if you want to hide the industrial look of metal grids.
Shipping and Delivery Charge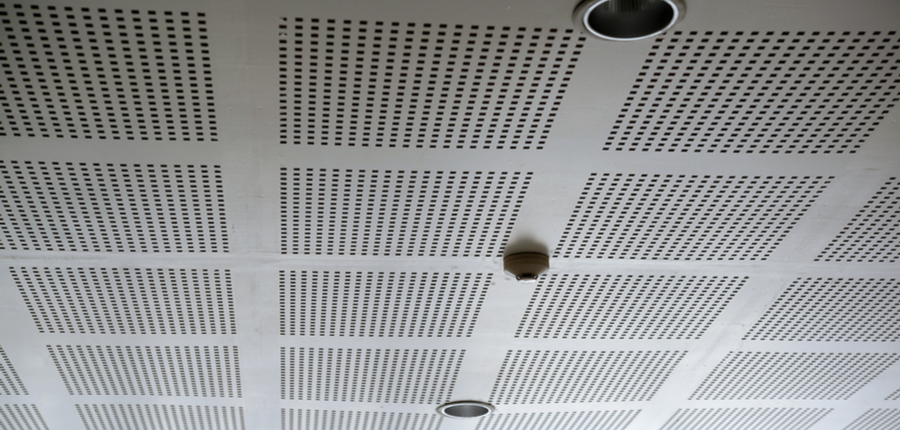 Buying Tips
When you look up, the ceiling of the room is what you will see. Ceilings are important features of rooms but often neglected. Everybody would want to have a nice looking ceiling and drop ceilings can provide the upgrade your ceiling needs.
Before you make your purchase, decide on the look you want for your ceiling. Nowadays, there are many colors, styles, sizes, materials, and options you can choose from. Thus, the options are limitless.
You can even request for samples of the tiles from retailers. Yes, this added service is offered by some retailers so that buyers can match a tile design with the room before the actual purchase.
You can also utilize Ceiling Project Estimator of Armstrong Ceiling. This feature provides you an estimate of the quantity and costs of materials you will need. You just have to provide the size of the area.
In procuring your acoustic ceiling, find a reputable ceiling company by asking for referrals as well as reading testimonials from past clients. This way you can be assured of quality materials and installation.
Acoustic Ceiling Cost Factors
Materials – Ceilings can be made of mineral fibers, wood fiber by-products or metals. The type of materials determines the cost.
Sizes – Various sizes of ceiling panels or tiles are available. The size difference between the units determines the price difference.
Design – Many designs are available. The more intricate and detailed the design is on the panels or tiles, the costlier it is.
Performance Features – There are many features available for acoustic ceilings. The available features are humidity resistance, mold resistance, noise reduction level, fire ratings, indoor air quality, stain resistance, lighting illumination schemes, and energy efficiency, among others. The more features the ceiling has, the costlier it is.
Size of the space – A larger space will have lead to higher expense.
What Else You Need to Know
Installing an acoustic ceiling is a DIY-friendly project. If you're up for the project, you will save on the cost to install drop ceiling. Some retailers provide a DIY guide on how to install the ceiling. There are also some DIY sites with step-by-step procedures on how to do it. DIY Network has an 8-step procedure on how to install acoustic drop ceilings.
While any room in the house or any space, for that matter, can be installed with an acoustic ceiling, the installation has been popularly done in basements and entertainment rooms.
Acoustic ceilings are typically installed in entertainment rooms because of its acoustic advantage.
Why are acoustic ceilings popular? Aside from easy installation, there is also ease of replacement since the ceilings are made up of panels or tiles.
Acoustic ceilings attractively conceal pipes or wires while providing ready access when needed for repairs or maintenance. With drop ceilings, the look of the room is not compromised by the need as well as the presence of facilities. Also, the acoustic ceilings' sound-dampening property is a sought-after feature.
Having an acoustic ceiling is an uncomplicated and economical way to jazz up any room. Be it for a home or a workplace, an acoustic ceiling is a sure way to improve the appearance and acoustical qualities of any space. It's another way to add value to your space.