A lot of innovations in technology has happened and the construction industries have evolved so much from the way they build buildings and structures to how they destroy them on their condemned state. But the humble scaffoldings have been used since time immemorial and are still widely used up to this day. It never gets old. Be it a simple painting job or a ceiling repair at home, to large construction projects, count that you would still see a lot of the ever reliable, good 'ol scaffoldings.
Average Cost of Scaffolding Rental
The average scaffolding rental rates may range from $15 to $150 or more per week depending on the type, location, and the rental company but can be rented per parts if you only need some which can be cheaper.
According to RentAllofGlynn.com located in Georgia, the scaffolding rental cost is $18.00 per week and $25.00 per month for the complete section scaffolding which is consisting of two frames, two braces, and four pins (5′ high 5′ wide 7′ Long). Walk boards, wheels, safety equipment, and adjusters are not included.
Their individual items price list is shown below:
[wpdatatable id=48]
Additional items and accessories that you may need are the following:
[wpdatatable id=49]
On the other hand, SteffensRental.com which is located in Kentucky, the following is their scaffolding rental rates:
[wpdatatable id=50]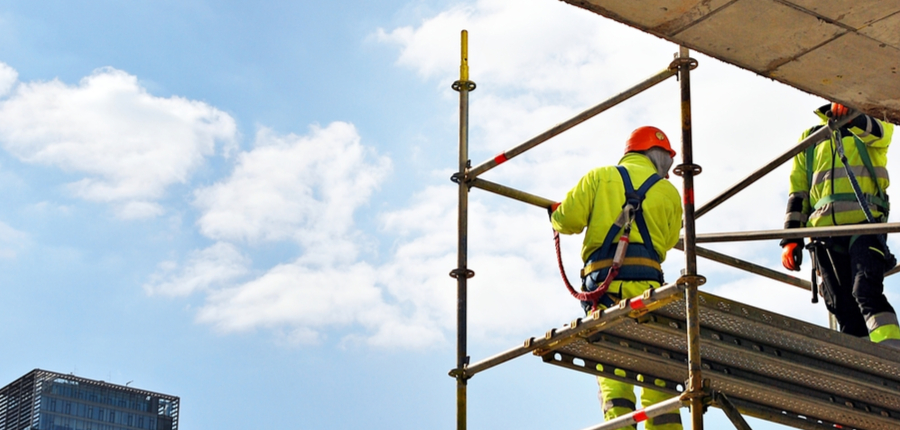 What are Included
Since the scaffolding can usually be rented per piece and delivered to site as such, it needs to be assembled at the project site. It is expected that you as the renter knows how to assemble and use it. Otherwise, rental companies can give you guidance on how to put the parts together. That is if the assistance is incorporated in the price. Or they may take care of them altogether and charge an additional fee. So talk to the company what exactly is included in the scaffolding rental cost.
Shopping for Scaffolding for Rent
Depending on the terms of the rental contract which depends on the volume of the transaction, the following may be charged as extra costs:
Delivery and retrieval fee – more often than not, the price tags of scaffolding rentals are purely for the materials alone. If that's the case, prepare for these extra costs, that is, if you do not intend to get them from the rental company's site or you do not have a truck to transport the scaffolds.
Assembly and disassembly charge – unless specified to be included, then you need to pay extra for putting those metals and tubes together or separating each part after use.
Loss or Damages – construction sites can sometimes be untidy and unruly, where missing and damaged construction items and parts are common. If ever this happens, expect to pay extra charges.
Deposit or bond – depending on the rental company, some may include a deposit for at least a portion of the average scaffolding price to cover for any loss or damage to the equipment. This is normally refundable upon return of the scaffoldings.
Factors Affecting Cost of Scaffolding Rental
The size and height – the scaffolding rental cost varies depending on the specific materials and parts are that required when considering the size and the height necessary to get the job done.
Type of project – how much scaffoldings, how high, how many levels, and what type of scaffolding you would need are decided by the type of activity you plan to do.
Quantity and quality of scaffolding – the number of scaffoldings you will need would depend on the activity at hand, as normally, the larger the project, the more it is costly when considering the average scaffolding price.
Location of the project – prices of scaffolding rental more often than not can be dictated by the location of the rental company, as doing business and cost of living in a particular area can be higher compared to others.
Rental duration – scaffoldings are typically rented for six to eight weeks for average sized projects and are charged a flat rate but can be extended by days or weeks depending on how much more time it would be needed. But you can always rent some even on a daily basis.
Unusual requirements – sometimes, scaffoldings are being utilized in an entirely different way like bridging a pathway, a driveway, in which case can be more expensive considering the quantity needed for these to be put up and would be ensured to be durable the way it is intended to be.
If a license is required – when public access would be affected like blocking a public road is expected, you may be required to secure a license or permit in order to be allowed to proceed with the project, therefore, would add up to the cost.
Access – if there are going to be any issues regarding access, some special types of scaffoldings which may be more expensive may be required. If this happens, then expect to spend higher cost.
Types of Scaffolding
Not all scaffolds are the same and what you may require for a particular activity may not be the same with what others need. So it is very important to know what exactly is needed in your project to avoid paying more than what you actually need. In the same manner that you would not want to rent items that would not satisfy the requirements they are rented for.
Having said that, below are the main types of scaffolding variety:
Single pole scaffold – this type of scaffold has platforms that are resting on cross beams and the outside ends are supported on ledgers which in turn are secured to a single row of uprights. This is typically used for minor projects with few workers.
Independent or birdcage scaffold – this type stands on its own and can be assembled easily. It consists of two rows of uprights that can be used for single level work such as ceilings.
Suspended or swing stage scaffold – This type is commonly used by window washers for skyscrapers. It is being hung from the top of a building and the height can be adjusted using a lever. It can also be used in moving tools from one level to another.
Cantilever scaffold – this type of scaffold is supported or attached at only one end and the other side is hanging. It is commonly used for hard to reach areas.
Hanging bracket scaffold – this type is complex and should be designed by an engineer as it is attached or fastened to the building floors using J bolts.