We may not be aware much of the term but we would most likely see these in old homes especially those of the countryside. These types of wall paneling give you the feel of your childhood home. To some extent, if you have not experienced living in a Victorian house, the ones that have them give you the feel of it.
And it's justifiable because wainscoting dates back to 1300 when the Dutch used them to shield the bottom half of plaster walls against the different hazards of everyday movement of residents and the constant shifting of furniture.
In case you are still wondering what we are talking about, wainscoting is a kind of wood paneling that has decorative accents, that is used to prevent water damage on walls. This originally made of oak boards paneling was used to cover the entire wall but later on, has been used to cover just the lower part in 1700.
Now the question is how much does wainscoting cost?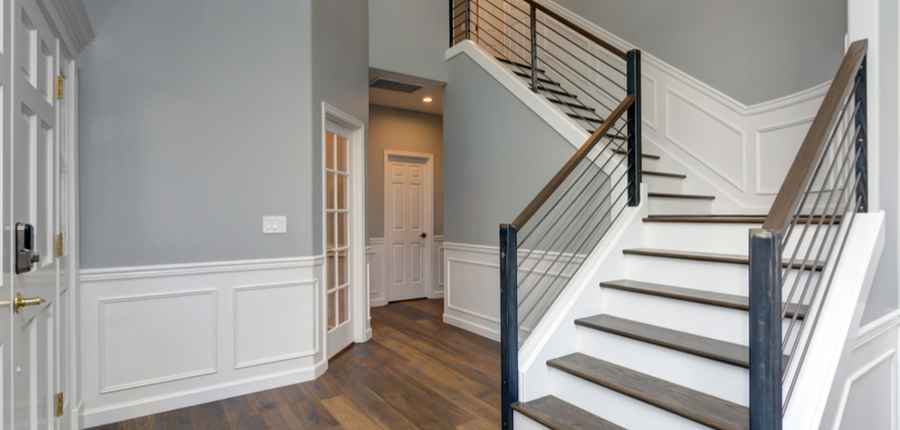 Average Cost of Wainscoting
The national average cost of wainscoting is $3,067 to install a 130 square feet of unfinished beadboard wainscoting capped with a rail molding in a 10 x 12-foot room according to DIYorNot.com.
They added that the wainscoting price if you do it yourself would just cost around $1,010 representing the cost of materials only.
Based on the figures above, the net difference to be attributed to labor cost is $2,057 which, if we spread over the 130 square feet project would translate to roughly $16 per square foot.
Homewyse.com listed the following price ranges for the different wainscoting:
Beadboard – $2,195.30 to $3,565.04
Wall panels – $1,555.40 to $2,650.34
Faux – $2,638.10 to $3,912.59
Meanwhile, below is the cost per square foot of different types of wood and finish as quoted by NewEnglandClassic.com
[wpdatatable id=22]
What are Included
Like any home improvement especially woodworks, the following are the typical coverage of a wainscoting price that is normally quoted by contractors:
Materials – your choice of the materials like the type of wood as well as the type of wainscot design would greatly affect the cost of your home improvement project.
Delivery – since the fabrication of the panels is done at the place of the contractor, the delivery cost is included in the project price.
Labor – fabrication and installation make up the labor charges that your contractor would charge and would depend on how intricate your wainscot requirements are and how difficult they are to install.
Tools and equipment – since the project involves fabrication and installation, it is impossible to complete it with bare hands, the average cost of wainscoting project would definitely need the aid of some tools and equipment which would make a huge impact on the pricing.
The cost to protect existing structures and properties – there is never a big or small project in terms of construction or home improvement and the possibility of other parts of the house being affected is always expected.
Debris removal and disposal – as with almost all projects, cleaning up of the project site should be included in the cost estimate.
Additional Costs
When you get quotes from different contractors online, they would typically assume that they would start from scratch and would not consider the removal of any existing old panels. Unless you specifically stated that you want it included in the quotation, you either have to spend extra for the service or remove it on your own beforehand.
Costs of removing, relocating, repairing or modifying existing electrical and plumbing systems
Contractors normally would not meddle with your affairs in terms of supervising while they get the job done. But if you think you do not have any knowledge of carpentry, then expect to pay an additional 15% to 23% of the total cost as supervision fee.
Since this is considered a minor home improvement, the cost of any required permits would be shouldered by you as the homeowner.
Sales tax on materials and supplies required by the state.
Shopping for Wainscoting
If looking for an installer of wainscots, seeking a referral from relatives or friends who might have already availed this service can be a good starting point. Another option is if you have recently had any home improvement service either through a handyman or a professional, you can also ask them if they knew any wainscoting contractor who they could vouch for the quality of work.
But if you want to be sure, you can find different specialty contractors via the tool of NARI.org.
Do-It-Yourself
When considering a DIY, a wainscoting and paneling guide can help you get the job done with the easy to follow instructions and guide in installing wainscots at home.
Below are the tools and materials needed to get the job done. If you already have any at home, much better.
Tools
Sandpaper
Electronic stud finder
Pry bar
Level
Carpenter's square
Tape measure
Miter saw
Tack cloth
Hammer
Stain and finish brushes
Circular saw
Razor knife
Pneumatic nailer
Nail set
Materials
1×6 S4S oak boards
2-1/2″ (pneumatic) finishing nails
Cove molding
1-1/4″ (pneumatic) finishing nails
Wood stain
Base shoe molding
1/4″ oak plywood panels
Wood glue
1×4 S4S oak boards
Satin polyurethane finish
Wood shims
Construction adhesive
1×2 cap molding
Factors Affecting Wainscoting Cost
Given that the wainscoting cost is dependent on what part of the house you need it installed, but the following factors define the extent of your expenditures when it comes to accentuating your home:
Type of materials – before you install your wainscot, you would choose what type of materials you specifically require. Your choice would be among the type of wood or if you prefer a real beadboard or the imitation type.
Miscellaneous materials – aside from the wainscot material, you would also have to spend on the different items that are needed during the installation process like the paint, the finishing nails, the sanding utensils, as well as the cap and baseboards. They may not cost so much but can definitely impact the overall price when added together.
Location – as with any type of services, the location of the project typically affect the pricing as the cost of living and cost of doing business always play a major role in the cost. Supply and demand can also factor in the pricing in every area across the country.
Labor – this is considered the biggest contributing factor in the overall cost of wainscoting job as it is reported that you could save as much as 67% of the cost if you do it yourself.
Type of wainscoting – your choice of the type of wainscoting not only affects the price but also can affect the quality and stability of the structure. More expensive types tend to be more cost-effective in the long run because of their durability making them last longer than cheaper ones and can also protect much better, therefore, avoiding miscellaneous repairs.
Contractor – the estimates of the contractors not only include all the cost considerations you would see on paper. A big bulk of the amount which typically comprises of the markup and professional fees depend on the level of expertise and experience of the contractor in the industry as well as its reputation.
Additional Information
When doing your own wainscoting at home, experts advised that when you are right-handed, you should always begin the job from the left-hand corner and work towards your right. In the same manner that left-handed should begin working from the right-hand corner and work towards the left.
One way of saving on cost is by accepting different quotes from different contractors and professionals. This way, you could choose the best priced and at the same time get the best service based on their offers.
Although seeking online estimates can be helpful in having an idea of the price ranges that can help you prepare for the actual cost later on, it is still best to have the same contractors see the project site to be able to accurately measure the area as well as gauge the level of difficulty they would face when installing the panels. This would avoid any hassle come the billing time as they would likely add up any unforeseen or unexpected factors that they did not include in their original quote.
Another cost-saving method you must consider is combining any other home improvement job similar to your current requirement as most contractors would likely give discounts to bulk jobs since they would employ same effort in terms of transportation, mobilization and demobilization of equipment and tools, and the supervision. Also, if permits would be a factor, you would save money and effort by securing just one permit for separate but similar jobs.