Probably the favorite part of the house for a lot of people, especially women, aside from the kitchen is the bathtub. It is where they do their most relaxing soak after a tiring day at work or at home. The appearance of the bathtub plays an important part in the therapeutic effect of the activity. But sometimes, you no longer get the same calming effect and you may wonder why. If you have an already old tub, it is time to consider to have it reglazed.
Contrary to what you may think, you can get your bathtub a new look at a portion of the cost and the complication of having the tub replaced. Refinishing or otherwise known as reglazing is the process of repairing scratches and dents on the bathtub, and replacing its old finish with a fresh one with a glossy coating and color of your choice, giving your old and lifeless-looking bathtub a look as good as a new one would.
Average Cost of Tub Reglazing
According to Home Advisor, the national average tub reglazing cost is $460.
Reglazing a bathtub if you hire professional ranges from $300 to $400 for a standard sized tub that usually includes a brand-new coating and up to $600 for larger bathtubs depending on local rates.
Do-it-yourself tub refinishing price ranges from $60 to $200 for finishing kits sold in different home improvement stores. These kits typically include:
Cleaner – a gallon of Mira-Clean – $9.10
Surface prep substance – Permatex Surface Prep Activator – $15.99
Waterproof sandpaper – 3M Wetordry sandpaper- $6.66
Refinishing paint components – Rust-Oleum 2 part epoxy acrylic formula – $25.97
Paint sprayer – Wagner paint sprayer – $69.99
Paintbrush – Loew Cornell Brush Set 3 – $8.30
Paint roller – FoamPRO 175 Fine Finish Roller – $7.43
Additional Cost
For optimum refinishing results, doing it during the cooler months is the best option. Humidity during the summer season slows down the drying process, which may take at least two days longer for the finish to set and dry. In which case, a dehumidifier or a fan can help but adds up to the tub reglazing cost.
What Should Be Included?
Bathtub refinishing is often an option if your tub is still in relatively in good condition and the only issue is the appearance of the surrounding surface.
Doing the reglazing job entails the following tub refinishing price considerations that you will usually see in an estimate or quotation from a professional: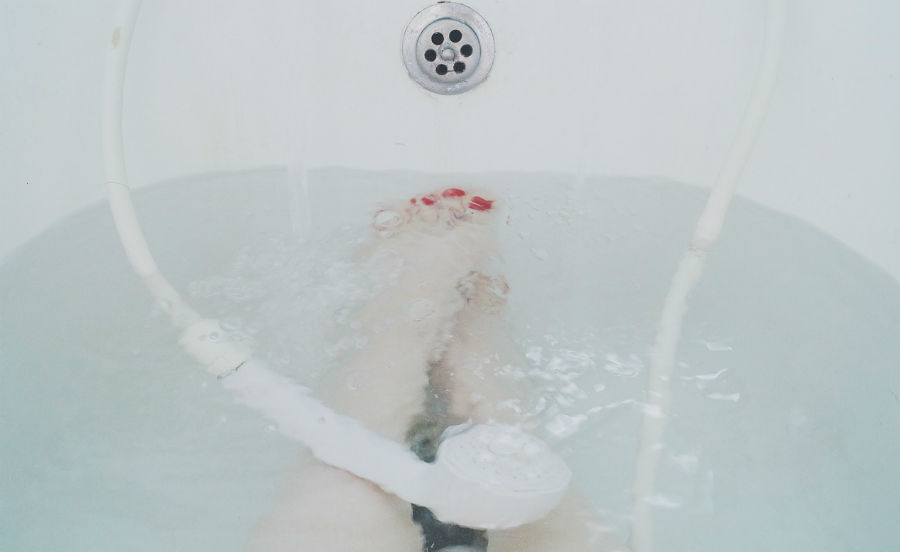 Cost of materials to be used
Mobilization and demobilization of equipment needed
Cost of delivery and transportation service provider
Cost of preparing the worksite
Cost to protect existing structures, specifically other parts of the bathroom
Cost of cleanup and debris removal and disposal after the project completion
Labor setup time, including the minimum hourly rate
Do-It-Yourself
The good thing about most house improvements is that you can DIY to save on cost. It is an advantage if you have previous experience doing the same job. If not, research is crucial in order to do the reglazing right the first time, or you might re-do it all over again, possibly with a professional.
Common problems with DIY include bubbles popping up in the epoxy layers due to improper spraying methods, brush marks when using a paint-on epoxy technique, and failing to dry the tub long enough especially during summer months making the finish looking smudged; an error usually committed from inexperience.
Also, before starting the project, be sure to check and settle any plumbing issues for smoother, uncomplicated flow of activity.
Shopping for Tub Reglazing
When you finally came up to the decision to give your bathtub a facelift, the first thing you need to do is look for a referral. Ask someone you know who might already have their tub reglazed and was satisfied with the service of their contractor. Or if you might have hired another contractor in the past who can refer you to a tub refinishing expert. It never hurts to ask for help in contacting the right men for the job.
You may also find bathtub experts on Surface Specialists near your place.
Tips for Hiring a Professional
Get several quotations from different contractors
Check whether the contractor has sufficient experience and expertise to do the job.
Check if the company is insured, licensed and bonded as required by your local regulating bodies.
Check if their history of satisfied and unsatisfied customers. Ask for photos of completed projects if they have.
Ask them what kind of materials they use and how long it takes to finish the job.
Ask them if they give warranties.
Since they will be doing the job in your house, ask them how many employees they hire and do some background check of each if possible.
Common Problems with Bathtub Refinishing
As with any home repair and improvement activity, whether DIY or with a professional, some finishes are not without flaw. The following issues are telltale signs that you need to repeat or re-do the job:
Bubbles – this is the result of insufficient drying time or using the bathtub soon enough even before allowing the coating to set in. Air becomes trapped between layers resulting in the appearance of bubbles. These often result in peeling of the paint.
Fading of the paint – this is either the result when the refinish paint is mixed too thinly or too much thinner was used, or it is not allowed to dry properly before using. Sometimes, the use harsh abrasives cause fading as well.
Rough and uneven surface – reglazing is supposed to be making the tub feel smooth to touch. When a rough texture is present, it can indicate that the surface was not sanded properly before the coating was applied.
Tacky or gummy feel – This results from the improper mixing of refinishing chemicals or the coating reacted to the cleaning agent. The tacky feel may indicate that the coating has not set properly yet.
It is important to note that while the cost savings in tub reglazing is enticing when compared to replacement, it is not always the best option. When your bathtub is already damaged, no matter how much you want to preserve it due to sentimental reasons, it will never work and it may only be a temporary solution. If this is the case, prepare yourself to do refinishing more often.