If you are looking for a building that is easy to erect, lasts long with little maintenance and assures your safety and security, then diving into a steel building project would surely be the best decision you'll make.
In this guide, you'll be able to learn more about commercial steel building prices, the factors affecting the possible cost, how to get a rough estimate of the materials of the projects and more need-to-knows about steel buildings.
Steel Building Average Cost
The average cost of a steel building is hard to determine. The price of steel depends on the fluctuating market as well as the progression of the U.S. currency. Depending on the size, width, and length, steel buildings cost per square foot would be around $16 to $25. This includes steel material, construction, insulation and customization, delivery, and labor.
If you plan to work on the concrete foundation without assistance from construction workers, you could have the price for around $5 to $15 per square foot.
Insulation prices also differ in which type of insulator you will be using.
Here are the types of insulators and their corresponding prices:
Rolled or Fiberglass insulation – the cheapest option for insulation, however, wears out over time. The price starts at $0.12 to $0.60 per square foot.
Spray Foam – there are 2 types of spray foam insulators. The Open-cell Polyurethane spray foam is a cheaper option which is at $1 to $1.20 but needs a thick layer to be sprayed on. This is good for buildings with thick framing. The Closed-cell Polyurethane costs around $1-75 to $3 per square foot but acts like glue that can make the structure stronger and last longer.
Insulated Panels – by far, if you are really into the steel building business, you would know that this is the best insulator for you. It can keep you cool even in the warmest of days. The panel cost could range from $6 up to $22 for a 4×8 ft. panel.
The commercial steel building prices can also vary if you plan to purchase pre-fabricated steel buildings rather than have an architect or construction firm deal with the whole work. It also depends on the style of the building whether you are doing a straight wall (gable) or a quonset.
The average cost per square foot for a straight wall steel building would be $9. Quonsets, however, cost $5 to $7 per square foot. Delivery fees are usually 5 – 10% of the total cost, and accessories such as windows and doors are around 10 – 20% of the total cost. Foundation costs can range from $3 – $6 per square ft or almost 50% of the average cost of the steel building material while labor costs would be around $5 – $10 per square foot.
With estimate calculators available on most websites, you would be able to calculate the cost of the materials using this formula:
Estimate Material Cost = Width x Length x Price per sq ft.
For a 40 x 60 straight wall steel building, the cost of materials would be $21,600 plus insulation and customization which would be $4,320. Add on the foundation cost at $10,800 and labor costs at $12,000. This will give you are grand total of $48,720. With this in mind you've spent an average of $20.30/sq ft.
You can head on to Buildings Guide and use their calculator to get estimates of how much your project can cost.
Inclusions
Like prices, inclusions can differ depending on whether you have a DIY project or an architectural firm working on your project for you. Here are some inclusions for the steel frame building cost in the type of work you may do;
Do-It-Yourself (pre-fabricated) Steel Building Project
Steel Material and Construction – this will be included in the steel building kit or the pre-fabrication process.
Insulators and Customization
Delivery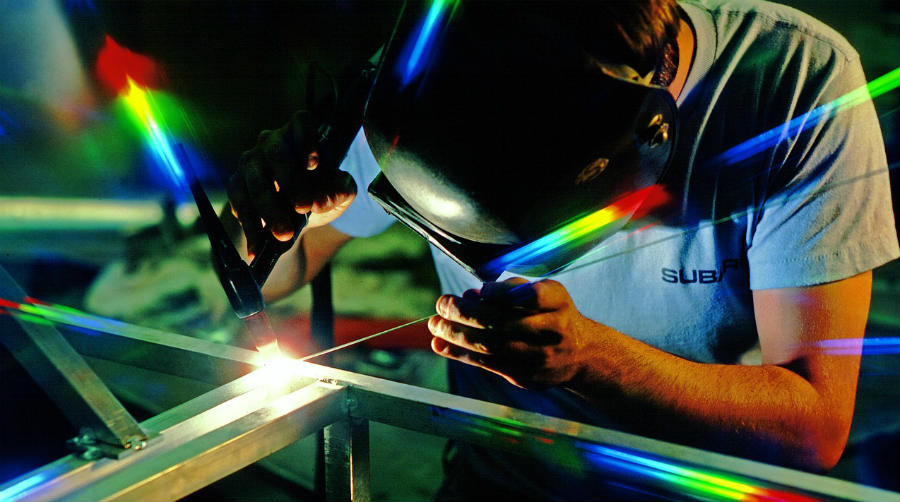 Steel Building Project by Architectural Firms
Steel Material and Construction
Insulators and Customization
Concrete Foundation
Equipment
Erection
Labor
Other Costs to Consider
Though there are complete packages when Architectural firms manage your project, they may not yet add these other costs to the quotation;
City Permits and Inspection fees – prior to having your project started, inspection and examination of the area where the project will be located have to be done and this will be sent over to the city or state council for approval. Fees vary from city to city. Like other building projects, we have the building code that we must adhere to. The fees may cost around $50 up to $400.
Land Preparation – prior to laying out your concrete foundation and setting up your steel building, grading procedures would be done on the land, depending on what type of soil your building will be erected upon. Land prep usually costs $50 – $70 per hour.
Monthly Maintenance – though you might have finished your steel building project, you would still need to have monthly maintenance inspections to see whether there are any cracks or needed reinforcements for the building. You can ask your contractor of choice for the price of the maintenance inspections and how frequently they have to be made.
Buying Tips
Try contacting a broker for assistance. They can look for manufacturers and start a bid. From the bid, you should be able to see the target price you would like to pay as well as the inclusions of the price that these manufacturers have offered during the bid.
Choose the contractor or manufacturer with the best deal and warranty. Having a structural warranty can save you any future costs of labor if there were any need to have additional reinforcements or maintenance on the steel building.
If you are still looking for contractors who can provide you assistance with your steel building project, you can definitely check out Armstrong Steel, General Steel Buildings, Brown Wegher, and a lot more online. You can also get estimated quotes on their online calculators.
Steel Building Cost Factors
There are different factors that affect the cost of putting up a steel building. Not only do we have to rely on the changing market, but we also have to give attention to the following;
Use of the Building – in order for you to have the correct size of the building, you would need to establish the use of it. Whether it is for residential or commercial purposes, different styles cater different prices.
Location – before starting your steel building project make sure that inspections have been done by a professional to have blueprints provided to you. Once the blueprint has been provided you can submit this to the city council for approval. After approval, send it to your manufacturer for them to be able to construct the steel building that is compliant with the code and follows the blueprint.
Design and Facade – the design of the building is also a considerable factor as you would need to provide this to the manufacturer in order for them to be able to purchase the correct accessories needed for your building. They could also add in a steel frame building cost depending on the interior design of the building. This will also affect the cost of insulating your steel building.
Land or site conditions – prior to starting the erection of the building, concrete foundations would need to be worked out. As mentioned earlier, there are different types of soil or ground that need certain groundwork. This can also give you higher fees if there is any extra work to be done prior to laying out the foundation.
Weather and Seismic conditions – yes, you would need to consider the weather and the seismic condition of your area. Based on the information gathered for each factor, necessary reinforcements may be added to the building construction and can alter the steel building cost per square foot.
Labor – This is considered as one of the cost factors because buyers cannot build steel buildings on their own. You would need to seek professional assistance.
Materials – This is the most important factor since without the materials there would be no work to be done.
What Else You Need to Know
Because of the fluctuating price of steel in the market, many companies offer to lock in the price of your steel building as long as you can provide them with the target construction date. Also, they will be discussing down payment, terms and conditions, and other additional costs for the lock-in agreement.
Depending on the contractor that you selected, warranties can go as long as 50 years for your structure. This may include yearly inspections to see whether the building requires upgrades or fixations. This can save you from the labor cost. Any additional materials for refurbishing would still be purchased at the time of inspection.
Now that you've seen all the possible estimates and benefits of having your steel building, you can definitely envision your new home and contact a manufacturer near you.