Beautiful! That's the most-often description to a stained glass window or also known as glass art window. Although it is prevalent in churches, stained glass windows are also used to decorate homes and even commercial buildings.
Making stained glass windows is both an art and a craft. It is not commonly used because it takes time to do and of course, because it is more costly than ordinary glass windows. But the higher cost of stained glass windows is worth the elegance it will bring.
While stained glass windows have often been associated with churches, there is now a resurgence in its popularity. There is a growing base for glass artists which could only mean that there is a high demand for their works.
Nowadays, stained glass windows have adorned many spaces. No matter how big or small the space is, a stained glass window can give it more character and color.
Stained Glass Window Average Cost
In reality, it is difficult to give an average cost for a stained glass window because of the peculiarities per project. However, to give a ballpark figure, the average is from $90 to $500 per square foot.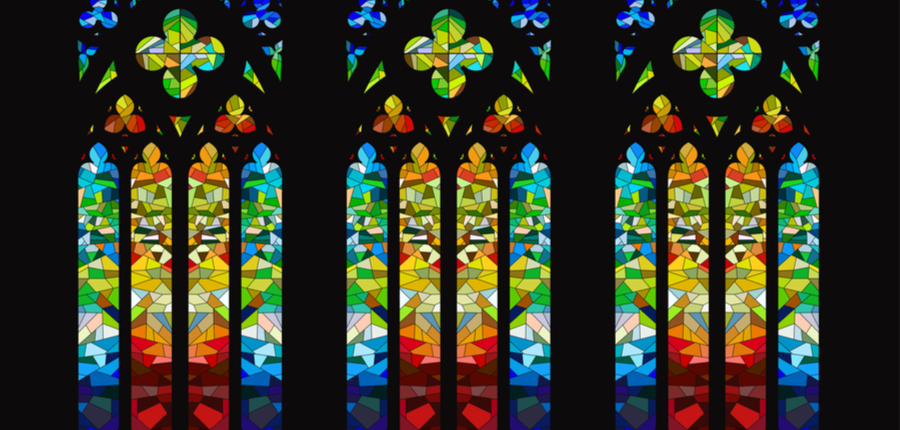 According to stained glass artist Ekaterina Reier of The Last Unicorn Studio, any given stained glass project, regardless of size, can be anywhere from $150 to $500 per square foot. Mark Stine of the Transparent Dreams Glass Studio, on the other hand, gives the following ranges:
| | |
| --- | --- |
| TYPE OF DESIGN | AVERAGE COST PER SQUARE FOOT |
| Simplest Designs | $90-$150 |
| Designs that are not-too-simple and not-too-intricate | $150-$250 |
| Most Intricate Designs | More than $250 |
Inclusions
The quote covers the design and all the costs for the completion of the project itself like the materials, artist's fee, and overhead. For actual quotations, artists/studios usually give quotations that include delivery and installation, if it is within their locality and if installation will be done by them.
There are three phases to the project. They are:
The Design Phase – This is the phase is when the artist and the buyer will discuss what the buyer wants and how it is interpreted by the artist. Several consultations can be made before the final design agreement is reached. Some artists require an upfront design fee for large and intricate designs. Said fee would then be deducted from the total price of the project.
The Contract Phase – This is when the contract details are discussed and until the contract is signed or the details agreed to. The contract will specify the design of the project as well as the materials to be used and other specifications. Also included in the contract are the following details: date of completion, the method of delivery and installation, if applicable, as well as terms of payments including applicable taxes.
The Creation Phase – This phase starts when the contract is signed and ends when the stained glass window is completed.
Delivery and installation can be another phase of the project depending on the agreement of the parties.
Other Costs to Consider
Delivery Charge – While most providers can deliver the project within a specified distance from their shop, it may be a different scenario when what is to be delivered is for a large window, and it must be delivered outside of the locality. If this is the case, then additional costs need to be paid to cover handling and shipping.
Installation – Installing complex and big stained glass windows may need other equipment and contractors.
Buying Tips
One very important tip in commissioning a stained glass window is knowing what you want. If you have a specific design or idea in mind, then shop around. It won't hurt to discuss what you want and set a budget if you are limited by one.
Don't know of any stained glass artist? You can ask for referrals, or you can refer to the list of accredited members of the Stained Glass Association of America. It would also be best to read testimonials from previous clients and browse through the portfolio of the artists to help you decide.
Stained Glass Window Cost Factors
The following factors will determine how affordable or expensive it can be:
Artist – If you have a design to be commissioned, then who will make it will have a great impact on the cost of the project. There are many stained glass artists. Some are more popular than others, and some have more commissioned works than others. What is important is you choose the artist you want given the budget you have.
Design – The intricacies of design also dictate the project's total expense. The more intricate the design, the more time required to finish the project and the more expensive it will be.
Finish – The glass art can either be glazed, with plate glass or with safety glass to protect it from elements. Since the stained glass window is a work of art, there is a need to preserve it. Thus, the type of finish will also factor into.
Complexity – Stained glass windows can be made of big cuts or small cuts of glasses fused together. When the design is made up of numerous small cuts of glasses, expect a higher quote.
Materials – There are many types of materials used for a stained glass window. However, projects using beveled glass, colored sand-carved glass or painted glass are more expensive.
Size – The bigger the stained glass window, the more expensive it is.
Colors – Some colors are more expensive than others. For example, cobalt blue is an expensive color because of the use of cobalt while some pink glasses use gold and so, it is also expensive.
Mounting – The stained glass can be mounted on an existing glass installed. Mounting is usually chosen when the owner wants to have the option to remove the art glass in the future. There are different options for mounting, and some are easier to do than the others and could cost less. Also, mounting the stained glass removes the need to weather-proof the outside panel, thus lessening the cost of the finish.
Of course, if you have a budget for the stained glass window, the artist can work within that amount and show you specifications that you can afford.
What Else You Need to Know
What happens when a fortuitous event damages your stained glass window? That is a moving-forward question but is a logical concern. Some stained glass shops keep unused materials for a commissioning made by them. This way there is still some original left-over glass that can be used to repair the damaged portion. You can discuss this option when shopping for an artist to do the stained glass window.
A stained glass window price may be affordable or expensive depending on what you decide on. A stained glass window is an artwork. Since it is a thing of beauty and many can appreciate it, it will provide the wow factor in any room or space.