Are you in the process of building your home? Or, possibly planning to repair or replace old features that have been damaged either by time or weather? If yes, then there are two essential structures that you should keep in mind: your soffit and fascia.
Usually unnoticed, these are your house's features which are as important as your windows and doors but do more than making your place look good. In this article, find out what each one does, why they're important, and how much does soffit and fascia cost.
Average Cost of Soffit and Fascia
Soffit and fascia are architectural elements of your home which you can find along the eave area or at the edges of your roof. They are projected beyond your house's sides or at your roof's overhang. In particular, the soffit is located underneath your roof and the fascia is the area directly above it. And they do more than just give your home a finished look or visual appeal.
A soffit is important as it helps in venting, keeping a steady flow of air from your roof to your attic. This prevents moisture from building up and mold from forming. This also allows the release of heat from your attic during the hot summer months. In addition, a soffit keeps out pests and animals out of your home.
On the other hand, the fascia serves as the last line of support for the lower edge of roof tiles or shingles. But most importantly, it is what your gutters are installed on. And it is crucial that your fascia can hold up even through a heavy downpour.
So, if you're seeing the point, soffit and fascia are vital parts that need close attention. If you're building your home, see that you have them made carefully and select the right materials suitable for the climate you live in.
And if you're planning to repair and change your past soffit and fascia, it is best that you make sure they are installed correctly and properly to prevent problems in the future.
And the price of fascia and soffit, as of writing, is as follows:
Fascia per 12-foot length
$1 to $3 for wood
$1 to $8 for composite
$5 to $8 for vinyl
$8 to $25 for aluminum
Soffit per 12-foot length
$2 to $15 for aluminum
$4 to $20 for vinyl
$25 for steel
$11 to $20 for wood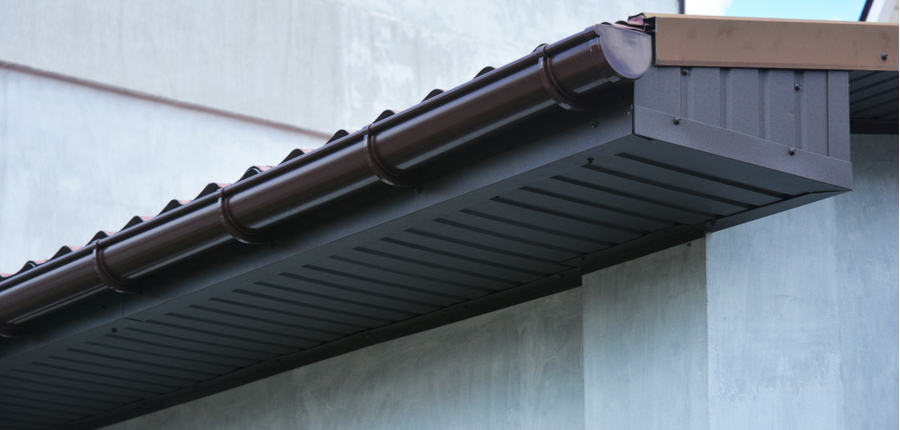 Additional Costs
Now, the given rough estimates are simply for the materials. Installation performed by a contractor will require an additional labor cost which can range from $15 to $90 per hour. But if you need tearing down and removal, fascia and soffit repair cost will include renting a dumpster where you have to pay around $250 to $500 for one.
If you don't want to hire help, you may do it yourself considering that you're not afraid of heights and that you have knowledge in a basic hand tool. And to learn more tips and guides, Amazon offers a book on how to fix your home like a pro at a really affordable price. But even so, there will still be additional expenses along with the price of fascia and soffit.
For example, you need a large supply of trim nails which goes for around $6 per pound, a hammer, tape measure, screwdriver, framing square, tin strips, miter box, ladder, and safety glasses which can cost roughly $250. There are also circular saws and jigsaws which can cost anywhere from $40 and above, and their blades that are priced at $8 to $15.
Now, the price may be adding up but rest assured that it will still cost lesser than hiring a professional to do the job. Remember, installing a fascia and soffit may take a few days to complete.
Shopping for Soffit and Fascia
It is worth noting that prices would vary from one store, shop, and dealer to another. But to give you an idea where you can purchase soffit and fascia materials, you can check out these places:
Home Depot: The largest home improvement retailer in the United States, Home Depot has everything from tools, construction supplies, and even offers services.
Lowe's: You can try to find what you're looking for at Lowe's. Their products are backed by a warranty and you can either pick them up or get them delivered to your door.
Trex: For durable and great-looking fascia boards, go to Trex and choose from a number of varieties they offer.
Feldco: Operating for more than 40 years, Feldco is a family-owned supplier of windows, doors and all your vinyl soffit and fascia
Menards: At Menards, you can easily compare fascia and soffit repair cost as they have a feature for it.
Factors Affecting the Cost of Soffit and Fascia
The question, "how much does soffit and fascia cost" depends on a number of factors. And they are the following:
There are many kinds of materials which are offered on the market today. There's the classic wood, aluminum, vinyl, composite, and steel. And in choosing the right material for your home, you have to take consideration of your location. For example, wood soffit and fascia might be more prone to warping and rotting in the Midwest as it gets frequently exposed to moisture.
Another consideration is its make. Though wood fascia cost the least, its drawback is on maintenance. And while vinyl might have a decent price, it's the material that is least durable. So, when you go shopping for the supplies you need, decide not only on the price and overall look.
Size of your house. Your expenses will ultimately be affected by the size of the area you want to be covered. It will affect the total amount of time you or your hired professional/s need to finish a project and the number of supplies.
Your location, the city, and state you are in determine not the price of soffit and fascia but the labor cost. To give you an idea, a 12-hour job with a 106-linear feet workload in California has a rough estimate cost of $440 to $1,070. And even at the same time and load, it is significantly higher than in South Carolina which costs around $330 to $805.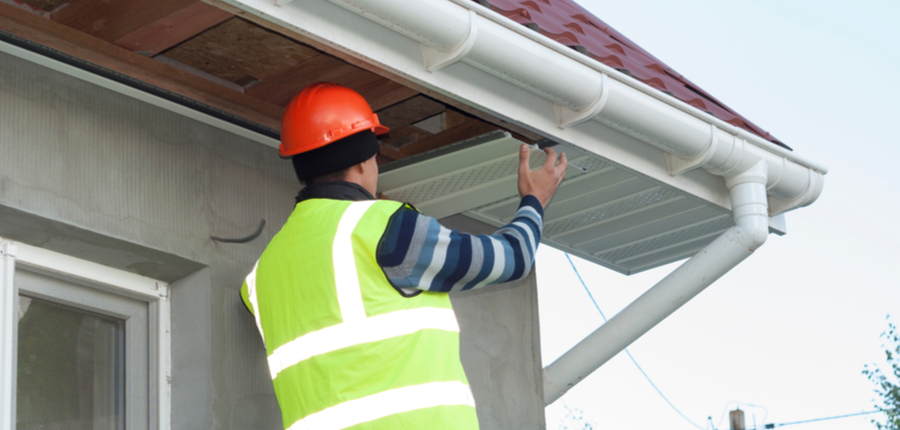 Additional Information
In case you are planning to install soffit and fascia by yourself, it helps that you cut the boards a bit longer than your initial measurement so you can overlap the joints. It is also important that your soffit and fascia do not have signs of rotting or any kind of damage. If it does, never cover it up. Instead, for your home's continuous protection, contact roofing professionals as soon as you can to prevent exposing your home from harmful weather conditions.