Constructing a house or refurbishing a high-rise building could be tricky if you don't have the right equipment. Most people use ladders but still won't make it high enough to finish the paint job or finish adding the roof. Plus, you should take a moment to think about your safety while working. A simple resolution of this issue would be to rent scissor lifts.
Scissor lifts have made lives easier throughout the years. This machine has helped people reach even the tallest towers with maximum security.
Scissor Lift Rental Average Cost
It depends on what type of lift you will be renting, as well as the duration of the rent.  Most building constructions last from 8 months to a year and a half. If you are planning to rent a scissor lift, then you should have the exact amount of time that you will be using it. Securing that information will help you cut down the scissor lift rental rates.
Small bungalows being constructed usually use a standard 12 ft. electric scissor lift. The rent can range from $122 – $190 per day. On the other hand, high-rise buildings would usually need 40 ft. electric scissor lifts.
The scissor lift rental price can range from $310 – $450 per day. For the sake of comparison, cherry picker rentals cost around $250 to $400 per day. 
Since construction work is long-term, many contractors consider renting scissor lifts for month-long durations. The rent per month could range from $765 up to $2100 and could even go up to $2,995 for the 50' high lifts. Check out Herc Rentals for a quick quotation available in your area.
There are the two types of scissor lifts, namely.
Electric Scissor Lift – mainly used for indoor elevation. Ranges from 12' up to 40' high. Prices start at a monthly rate of $765 up to $2075.
Rough Terrain Scissor Lift – this gas powered lift is mainly used for outdoor elevation. Great help with elevating people or materials while having grip on soil and grassy areas. Ranges from 26' up to 50' high. Prices start at a monthly rate of $1525 up to $2995.
Other Costs to Consider
Aside from the cost to rent, you may want to consider the rates of delivery and pickup. This will be issued every time you rent a scissor lift. You may incur a fee of $150-$200 per pickup and delivery.
If you are not familiar with the operation of a scissor lift, it is best to hire professionals from the rental company to avoid any mishaps. The fee may be around $100-$200 per person per day.
Renting Tips
Here are some tips to help you out with renting your scissor lift;
Look for the nearest scissor lift rentals company in your area. They should be able to provide you a cheaper quotation for the scissor lift rent and the delivery fee.
Make sure to have the correct measurements for the house or building in case of interior use.
When buying cleaning materials for the lift being rented (this is only if it will stay with you for a month-long basis), look for the most affordable brands.
Make sure to have a professional handle the scissor lift. This is to avoid any wreckage of the machinery and danger to any personnel. Try looking for professional assistance with the rental company.
For safety, it's best to purchase hard hats for the project. Prices can range from $30-$50 a piece.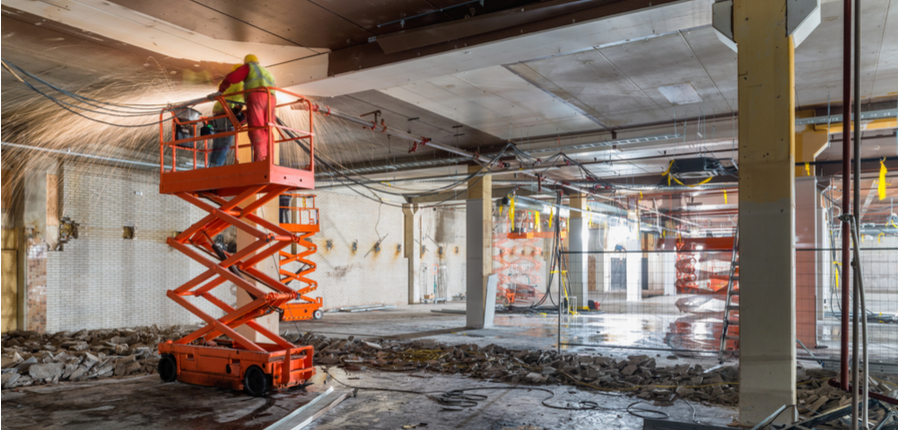 Scissor Lift Rental Cost Factors
Area or Location – different cities offer different prices due to the cost of living. You may want to check rental companies such as Blueline Rental for different estimates. Determine the type of land you will be dealing with. Rough terrain scissor lifts are good for the muddy part of the area that needs elevation assistance.
The height of the building – once you have information on the height of the building, you will be able to select which scissor lift is needed for the job.
Duration of the project – verify how long the equipment will be used so that you can get a precise quotation for the rent (daily, weekly or monthly).
The number of users – there is only an amount of people that can use the lift at a time. You can check the specifications and capabilities of each model at American Scissor.
What Else You Need to Know
If you're a construction company that specializes in the completion of high-rises, it would be considerable to purchase your own set of scissor lifts. The prices for purchasing them would be from $7000 to $20,000 per machine. This depends on the model you are looking to have. Used equipments would be cheaper, of course. 
You can also try to partner up with rental companies so that they can give you discounted prices for renting the lift.
If you are personally working on your own house, you may want to do some research on how to handle scissor lifts before renting so that you can avoid the professional fees. Many companies such as CAT rentals, McAllister and Tobly offer quotations based on which city you are in with the specific kind of model you are aiming to use.
You can find more information on size and width on American Scissor.
The next time you come across building a house or redesigning your home, stay safe, reach higher spaces and go contact your nearest Scissor lift rental!