Just when you thought building or installing a swimming pool is difficult, try demolishing it.
Old and used swimming pools leave a lasting memory of the happy days and removing it would always bring sentiments. It would surely break your heart… and your wallet. No? Yes!
Deciding on installing a pool was a mind-boggling decision to make, with all the pros and cons, the cost, safety concerns, maintenance, etc. But little did you know that getting rid of it might actually be nearly as overwhelming, with the budget at least. Not to mention the hassle of having another "construction" involved.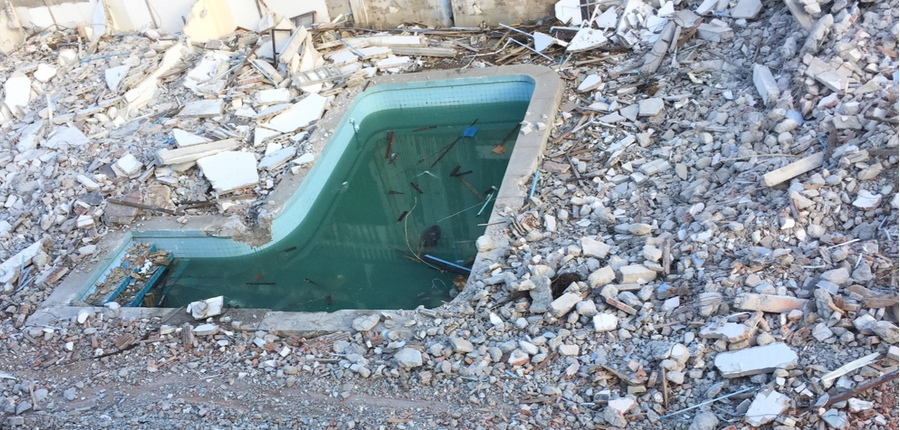 Average Swimming Pool Demolition Pricing
The average inground swimming pool removal will cost around $6,500 and $2,200.
Now let us dissect.
The pool removal done partially, for a small to a medium-sized pool of uncomplicated nature is around $3,000 to $6,000. This means there is easy access to heavy equipment and there is only a minimal layer of topsoil. Otherwise, the cost would go up to $6,000 to $15,000 especially for larger pools with a lot of plumbing works and decking materials involved.
Partial demolition in this context means that multiple holes are punched in the bottom of the pool, the walls are removed to a certain depth, and everything is filled with gravel or dirt.
The average full inground swimming pool demolition ranges from $6,000 to $25,000 for varying size and conditions. Removing a small, basic swimming pool with easy access averages $10,000 to $15,000.
Cost to Do It Yourself
Let us say you do not want to spend much and you have all the time to spare; you can always do the swimming pool demolition yourself as long as you obtain the required permits and follow local construction and demolition codes. You may choose to do the entire job with not a buck spent, just pure sweat and time-consuming efforts.
Or better yet, you may opt to do the just the preparation and cleanup work and hire a contractor for all the activities in between. This would cost around $3,700, mostly spent on the heavy equipment used to demolish and remove your in&above ground swimming pool.
Factors Affecting Swimming Pool Removal Fees
These factors affect the amount you spend on the job:
Type of Pool – Inground pool is more expensive to remove because of the difficulty of work involved.
The size of the pool – typically, smaller pools are cheaper to demolish compared to larger ones. But some contractors are offering flat rates regardless of the size. They are more concerned with the accessibility and intricacy of the pool instead of the size.
Accessibility – the harder to access the pool during demolition, the higher the expense.
The method of removal – different contractors has their own way of getting rid of the pool. Be sure to choose which one is more beneficial in your case.
Contractor – some contractors charge far more than others. This can be due to added works.
Location – areas, where there are a lot of pool demolition contractors, tend to get the lowest deals due to stiff competition. Also, some conditions in the location like challenging terrain leading to your pool will increase the expense.
Your participation – your expenses will be depending on your decision to participate in the job or not. You may opt to do the preparation and cleanup, supervise the project or do it yourself altogether.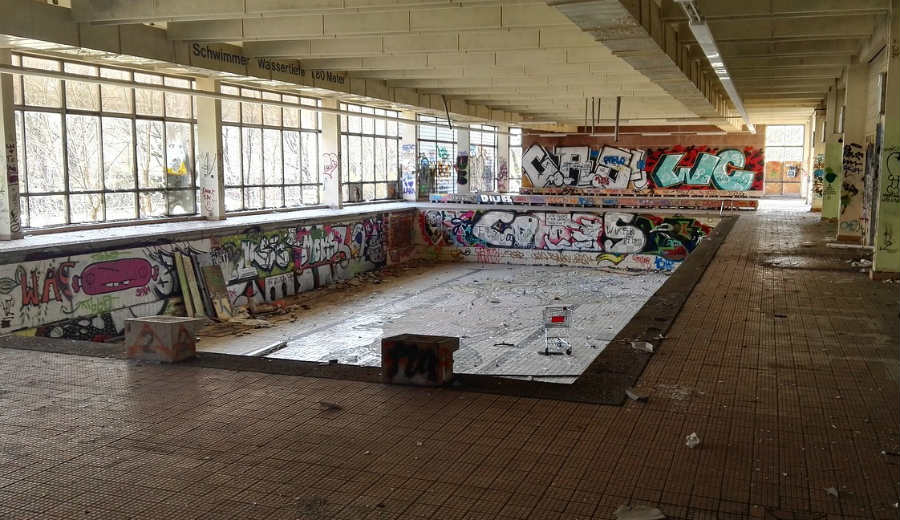 Things to Remember
Be sure to discuss with the contractor beforehand what type of equipment to be used and how access will be gained to ensure smooth operation.
Be sure to give your contractor instructions on what areas are to avoided or at least give them precaution not to drive heavy equipment over a septic tank, drain field, sewer connections and others.
Your local planning department may have specific codes for demolition, and you may be required to secure a permit before starting the activity. Be sure to check with them.
Be sure everything is in writing when hiring a swimming pool demolition company. The work to be done, the payment schedule, the start, and completion date, who is responsible for getting a demolition permit, if they are the one in charge of the disposal of the debris, among others, should be in black and white.
When Looking for Inground Swimming Pool Demolition Company
When shopping for a pool demolition company, there are several things to consider, like the following:
Getting several estimates would greatly help you to get the best deal. Aside from the opportunity to get the cheapest cost, you also get the chance to choose the best in the industry. Be sure to get the company that is properly insured, bonded and licensed. It would also not hurt to check if they have a history of complaints from previous clients.
You may check out the National Demolition Association for referrals.
You may contact your local contractors or pool maintenance companies if they are willing to bid for the job or if they know a good pool demolition companies.
You may also use Home Advisor's pool company locator for your convenience.
What to Look for In an Estimate or Quote?
Here are some of the core contents that an estimate or quote from a contractor for work to be performed in a serviceable condition should have.
The quotations should include the following:
Costs for materials, equipment, and transportation of the service provider to and from the site.
Labor and equipment set up time as minimum hourly charges.
Preparation the worksite including the cost to protect existing structures.
Cleanup and debris disposal after the project has been completed.
The cost estimate should not include:
Costs of removing, relocating, repairing or modifying existing electrical and plumbing systems
Testing and remediation of hazardous materials
If the contractor will supervise the project, 15% to 23% markup is usually added on top of the total cost of swimming pool removal. Otherwise, it should not be included.
Permit or inspection fees required by the local building department.
Sales tax on materials and supplies.
What are the Benefits of Removing Your Pool?
Saves you time and money. No pool, no maintenance.
Removing your unutilized swimming pool may increase interested buyers if your house is on the market.
You will have more space that you could use for some other purpose.
You will have peace of mind since you will not be worrying kids' safety.