What could be a better bonding moment with the family and friends than spending barbecue outdoors, or some swimming time at the pool?
Patios can be a very convenient part of the house where you could entertain guests and have small gatherings without wreaking havoc inside the house with all mess they create, more so with kids around.
But sometimes, uncovered patios pose potential risks and inconvenience, especially during rains and snows. Hence, it would be wise to have your patio covered. With so many choices available in the market, how much does a patio cover cost?
Average Cost of Patio Cover
The average patio cover cost ranges between $45 to $70 per square foot, depending on size and type.
There are several available patio cover kits you could buy that can range between $1,000 up to $2,000 depending on size and can either be made of wood or aluminum. These are ready to assemble types that you can put up yourself.
Manta.com reveals that the average patio cover cost in Bakersfield, CA is $2,125, with cost ranges from $1,808 to $2,443.
There are several types of patio covers that you could choose from. These are the following:
One of the most popular types of patio covers are the Pergolas or otherwise known as arbors. These typically cost $3,000 for the materials for the cedar wood and $500 for the labor for standard size of 10 x 10 feet. Although you can do away with the labor cost as they are easy to build so it can be done through DIY.
If you would want to use higher end materials such as Teak wood, prepare for a budget of around $8,000 for the materials and around $1,000 for the labor, mainly because they are more complex to build due to the complexity of the design.
These are used mostly in gardens, and form a shaded area for seating, as a cover or shade to various indoor and dwelling plants as well as add structure to spaces outside the house.
Wooden pergolas typically range from $45 to $68 per square foot, while fiberglass and vinyl types are cheaper and require less maintenance.
The lean-to style patio covers are very versatile as they can also function as carports and storage. They cost around $5 per feet to install so for the basic measurement of 280 to 300 feet, expect to spend around $1400 to $1500 for the materials and labor. An additional $525 is expected for the concrete slab for more stability and longevity.
The solid roof pavilions are favored by many mainly due to the shelter they provide as they protect against rain and snow. Standard roof pavilions typically cost around $3,000 for a basic 10 x 10 feet depending on the materials used and the shape of the roof.
How much does a patio cover cost for the temporary types? For these types, there can be several items to choose from. A simple patio umbrella costs anywhere between $45 and $200, while mechanical umbrellas can cost from $800 to as high as $2,500.
A tent type canopy that works like a gazebo can cost around $.50 to $2.50 per square foot if you do it yourself or tap the service of an installer and spend around $3 to $6 per square foot.
You may also consider a retractable awning if your need for sun protection is just for some part of the year and not all the time. These are canvas covers with either metal and vinyl frames. These typically cost around $400 to $1000 depending on size and if hand-operated or mechanical.
Please be reminded that these are temporary materials only so do not expect these to withstand heavy winds and rains.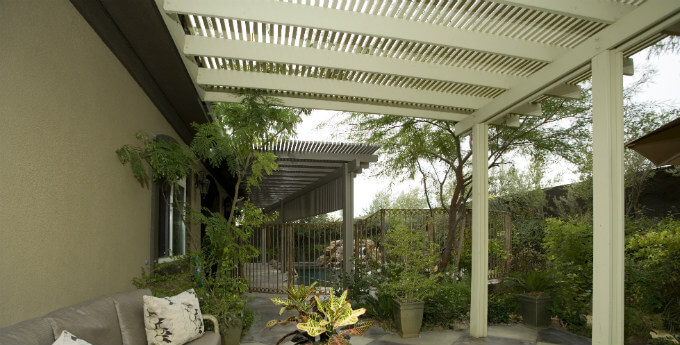 What are Included
The covered patio price typically includes the cost of materials and labor only for simple patio covers, including those temporary covers. But for the complex ones, a contractor's quote would likely include the cost to protect existing structures and removal and disposal of debris, as well as the use of tools and equipment if necessary.
Additional Cost
Maintenance would definitely be expected in any parts or structures of the house but the cost would depend on the materials used. Expect a higher cost of maintenance on wood patio cover as it needs to be stained regularly while all other types would just need simple cleaning from time to time.
Also, check out if your state allows you to construct a patio or if you would need a permit before you can proceed.
Shopping for Patio Cover
When shopping for patio covers, making up your mind on which type you prefer can save time but it never hurts to have an open mind especially when you have several options that are almost identical but the costs are different.
Gather several estimates that involve several types of patio covers so you can have a price, maintenance, and quality comparison to help you come up with the best choice.
Archadeck offers free consultation through their website. You may also contact them at 704-944-1350 or email them at [email protected].
Factors Affecting Cost of Patio Cover
Materials – the type of materials you use will dictate most of the cost of you patio cover as some materials cost higher than others but would likely be more durable and cost effective in the long run.
Types – there are several types of patio covers to choose from depending on your preference and needs whether temporary or permanent, or whether for shelter only or overall protection and enjoyment.
Accessories – depending on the type you install, you may need some accessories to improve the appearance and durability of the patio cover.
The size of the patio – it is said that in certain types of patio roofing if the size is less than 120 square feet, you will be paying more per square foot due to the inefficiency of material and labor.
Also, other factors that might have an effect on the covered patio price are the following:
If there is an existing patio
If there are footings around the perimeter
If the patio cover is either free-standing or going to be attached to the house
The roof line
If the roof is going to be attached to the house wall or needs to be tied into the existing roof line