If you are a Hollywood enthusiast, you may have heard about the death of actress Brittany Murphy and her screenwriter husband Simon Monjack sometime in 2009-2010 being linked to mold infestation in their Los Angeles home. The link is due to their passing in an eerily similar way and just months apart. Although it has not been proven to this day that molds can actually cause pneumonia and anemia, it may be important to stay vigilant. The cost of mold remediation or removal can be one of the most important investments you could ever have for you and your family's health.
What Are Molds?
Molds are a natural part of the environment and can be found anywhere that has moisture and oxygen. They are a type of fungus and live in most places such as soil, plants and they survive by digesting dead or decaying matter. They do not use chlorophyll to produce food, so they survive even without sunlight.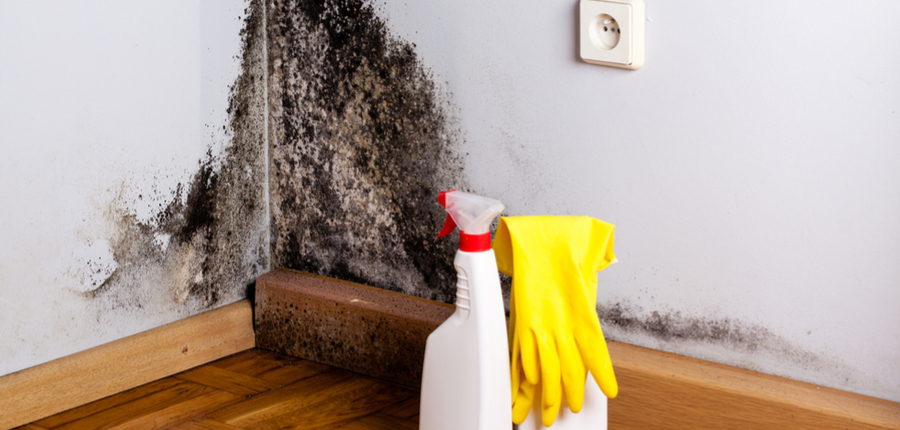 But having them indoors is an entirely different story. Mold infestation can harm the residents' health and deplete their properties. Getting rid of them immediately once you find them growing in your home would be a wise decision. Otherwise, delaying the process can take a toll on your family's health, not to mention the extensive remediation and repair cost, building materials and furnishings.
Health Risks
Health risks associated with mold growth are sneezing, runny nose, skin rashes, dizziness, headaches, red eyes, and asthma attacks. Worse, this fungus can produce a toxic substance called mycotoxins, some of which are carcinogenic that when ingested via inhalation or skin contact, can cause lung cancer.
There were also reports linking fungus to anorexia.
Average Cost of Mold Removal
The national average mold remediation price that was done professionally ranges from $500 up to $6,000 — but the price can soar up to $30,000 if the problem is so severe.
How Much Does Mold Removal Cost Per Area in the house?
Remediation costs depend on the location of the mold and how extensive the infestation is:
Crawlspaces only cost $500 – $4,000
Crawlspaces, ducts, walls and attics  cost $4,000 – $6,000
For widespread structural damage, total cost ranges from $10,000  up $30,000
Do It Yourself
According to Environmental Protection Agency, the area threshold of the property that can be tackled by the home and property owners themselves is around 100 square feet (10' x 10'). Anything larger than that already requires help from professional remediation company.
But before doing it, you must seek first the help of an inspector or mold investigator to be able to uncover the cause and extent of the damage.
The typical fee for a site visit for 2 to 5 hours ranges from $200 – $600. The investigator will take air samples from your property. Expect some walls and furnishings to be ripped open to locate the source.
Testing air samples cost around $30-150 per sample. But if the investigator comes from the remediation company you will get services from, inspection fee are often waived.
When results would show that the extent is within the threshold, you may then decide what kind of approach you are going to take to eliminate the problem. This activity requires no professional certification and may be suitable for DIY. But remember, this task is a dirty one, and the dirt is a health risk so ensure proper protection is being adhered.
Average Mold Remediation Price for DIY
Mold removal and remediation cost vary depending on the materials and equipment used which are as follows:
•    Goggles with a half-face respirator mask –  prevent mold spores from reaching the mucous membranes of the eyes. Cost: $6.99-$29.77
•    Disposable hazmat coveralls –  to keep out particles down to one micrometer, and protective suits keep mold spores from entering skin cuts. Cost: $4.50-$6.50
•    Gloves made of rubber, nitrile, polyurethane, or neoprene. Cost: $15-$30 per 100 pieces.
Dry brushing or agitation device-  wire brushing or sanding is used when microbial growth can be seen on solid wood surfaces such as framing or underlayment. Cost:  $7.97 – $8.75
•    Detergent – used in Damp wipe: Removal of mold from non-porous surfaces by wiping or scrubbing with water and drying quickly. You can use any available detergents at home.
•    Wet vacuum – a specially designed shop vacuum that can remove water from a range of surfaces including carpet and wood. Cost: $14.59-$219
•    HEPA (high-efficiency particulate air) vacuum – used in remediation areas after materials have been dried and contaminated materials removed; collected debris and dust is stored to prevent its release. Cost: $239-$749
If using harsh chemicals is out of the question, and the infestation is very manageable, then a natural mold and mildew killer can do the trick. Some people used a mixture of water and bleach in scrubbing mold stains while some have found success by filling a spray bottle with tea tree oil or vinegar and spraying the area infested.
Insurance
If you live in an area prone or susceptible to wet weather and flood damage, chances are insurance policies cover the cost of mold remediation. Insurance in regions with these kinds of weather generally account for this phenomenon and likely cover this. Always check your policy. Insurance can reduce home mold removal and remediation costs.
Mold Remediation Companies
Below are some of the removal and restoration professionals in the country:
ServiceMaster Restore
Indoor-Restore Environmental Services
Paul Davis
Belfor Property Restoration
Vanguard Mold Remediation Inc.
Notes
Never try to diagnose your home mold infestation with a testing kit as they are known to give inaccurate result and cannot specifically confirm the presence of dead mold spores.
Mold spores tend to be invisible and out of sight until they begin to grow and flourish. By the time you realize their presence, it might have already done harm to your health and might have already damaged your property, worse, uninhabitable. Stay vigilant.
One mold investigator says, "Mold remediation isn't about 'kill, kill, kill.' Even dead mold can still be allergenic."