If you live in a mobile home and you are planning on relocating, a moving service is what you need. There are many companies across the country that specialize in moving mobile homes.
The cost to move a mobile home may be the first thing that comes to mind when you plan to relocate. Moving your entire home can sound stressful and expensive if you don't know what you're getting yourself into. Thankfully, there are companies that will ease your stress and do the whole process for a reasonable fee.
Moving A Mobile Home Average Cost
Movers will use the details of your trailer to come up with a price.
A 17500-pound single-wide manufactured home was shipped through Uship.com for $4250. The distance covered a little more than 2100 miles from Louisiana to Washington. Of course, this was cheap especially for the distance covered.
Buy A Buddy charges a 100 mile move $3000 to $5000 for a Single Wide home and $5000 to $9000 for a Double Wide.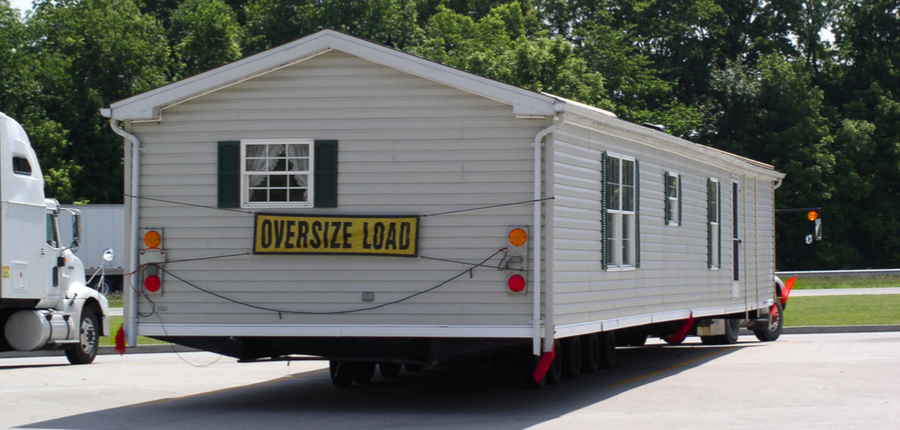 Inclusions
Once you have chosen a mover to transport your mobile home, the price will include the necessities of moving it. These items will all be part of the service.
Vehicle – To ship your mobile home, a truck is needed. A simple pick-up or SUV just won't cut it. Movers use huge semi-trucks to transport manufactured homes. These are powerful vehicles that are highly capable of pulling oversized loads.
Gas – The fuel the vehicle uses will be part of the package. For long hauls, traffic could happen, and detours may come by. All these delays will consume more fuel than projected. Thankfully, this is all part of the deal.
Loading and Unloading – The company you choose will do all the heavy lifting for you. Things such us mounting the trailer to the truck, as well as unmounting and positioning it on the land.
Permits and Inspections – Companies will usually have all the paperwork necessary when moving things like manufactured homes. Some states require inspections before allowing entrance for things like this. The transporter you choose will handle all the permits and will have all the inspections done so everything goes smoothly.
Other Costs to Consider
Setting Up and Utilities – Once your mobile home has been delivered, the movers will place the trailer in your desired space. That is where their service stops. Setting up things like the skirtings and stairs will be done by you or a pro you hire. Utilities will need setting up as well. This includes electricity, water, natural gas, and other things like internet. Users on Mobile Home University Forums report the costs to be around $4000 to $5000.
Repairs – When a manufactured home is in transit, some damages can show up. These damages could be new, others can be hidden ones that finally became visible. As the saying goes, if it's broken, fix it. Repairs will cost extra, and pros will be needed so the home will be on par with the state's standards. No matter how careful the mover may be, things can still break.
Flat Tires – If your trailer gets a flat tire on the road, the mover will pay for and replace it. However, once the home has been delivered, you will have to pay for all the tires that have been replaced.
Rent – Though you own your mobile home, the land you will place it on will be the property of the park. Renting the land costs anywhere between $250 and $700 per month or even more. This price goes up if you have a larger home such as a triple wide or even a quad wide.
Trip Insurance – Be sure to ask your chosen mover if their company carries insurance for transporting mobile homes. A reputable company will carry insurance and will charge a reasonable cost for it. This will protect you and your home if something goes wrong during transit. Ask your mover about this when getting a quote.
Buying Tips
Most companies won't give a base price as factors of each move vary too much for each client. Instead, they will give out quotes based on the details the client gives. You can call companies or even fill-up a form from a website like Unpakt.com to get your quotes.
Websites like uShip are a good place to start. There are tons of movers that check the site every day. Simply create a posting and specify the details of your mobile home. Movers will give you quotes and prices for their services and it will be all up to you to decide which one you pick.
Moving A Mobile Home Cost Factors
Size – Single wide and double wide homes will be cheaper to move than triple or quad wide trailers. The price will often double or triple since some manufactured homes can be two or even three times bigger than a single wide.
Weight – Some mobile homes weigh more than others. Even if two trailers are both single-wide models, one may weigh a couple thousand pounds more than the other. The weight of your home will be accounted when determining the price of moving it.
Distance – Moving a mobile home within the state will cost significantly cheaper than moving it to the other side of the country.
Destination – The location your home is in and the destination is another major factor that affects the cost. Permits, inspections, and all the other necessary items for transporting a mobile home would vary depending of the currently implemented rules and regulation in a particular place.
Service Coverage – If your move involves crossing multiple states, there is a chance you may need to hire more than one mover. Companies usually have licenses for the state they operate in, others have multiple state licenses. If you end up hiring two or more movers if multiple states are crossed, coordinate with them regarding the transfers of the mobile home from one to the other.
What Else You Need to Know
There are some companies who don't include the price of permits and inspections to the cost of their service. Be sure to ask about these permits to make sure everything is ready for the move.
Preparing your trailer is a big part of the whole process. Pack all the fragile items in your home as well as loose objects. Keep them secure that way things don't fall out or get damaged.
Some companies from other states that are delivering homes to your area can take your trailer as backhaul. This can bring the price down. Be sure to ask movers if they have any deliveries to your state in the future.