Trying to dig up your lot but shovels won't just do the trick? Trying to make landfill but have nothing to dig the land with? Instead of spending hours trying to make that shovel work or spend thousands in buying excavators, why not just rent a mini excavator?
If you have land that needs digging then renting out a mini excavator is the right decision for you! This guide will show you the cost for renting a mini excavator; its inclusions and other costs to consider.
Mini Excavator Rental Average Cost
The mini excavator rental rates differ from the model of equipment you will be using as well as the duration of the rent. Currently, the cost to rent a mini excavator for a day would range from $206 up to $625.
Note that this is only on a daily rent. If you are looking to rent it for a week, prices range from $800 up to $1,750. For monthly rates, it could go from $2500 up to $4,475.
Inclusions
The rate would include the fully fueled machine and one standard size bucket. You can choose from 12 to 24-inch buckets that are available at the rental store. Delivery and other fees will be additional and will be discussed further.
Other Costs to Consider
The quote is usually only for the equipment itself along with standard buckets. Here are some other expenses you would need to consider when renting a mini excavator:
Delivery – the rate of delivery depends on the area you are in. Delivery rates can be as low as $70 and can reach up to $150.
Professional Fees – the rate of hiring an operator is charged separately. The price may range from $75 up to $1,440 depending on the model to be used and the number of hours for labor.
Fuel – when using and up to the point of returning the mini excavator, you would need to consider fueling it up to avoid additional costs. Because of the changing prices of diesel, the prices of fuel may range from $0.80 up to $1 per liter. Again, this is only a rough estimate and can change at a daily rate.
Additional Accessories – A standard mini excavator rental rate consists of either a fully fueled wheel or track excavator, with a 12 to 24-inch bucket. Additional accessories such as dozer blades, hammers, augers, grapples, etc. can range from $50 – $160 per hour.
Insurance – most rental companies will require you to pay an additional fee for insurance. This is usually 12% of the amount you are paying for the mini excavator rent. Take note that this will only cover any unexpected damages to the equipment that is not your fault.
Equipment Storage – if your garage will not be big enough to store a mini excavator, you will definitely have to look for a storage rental wherein you can place the equipment for safekeeping. Storage rental depends on the duration of use and may range from $175 up to $399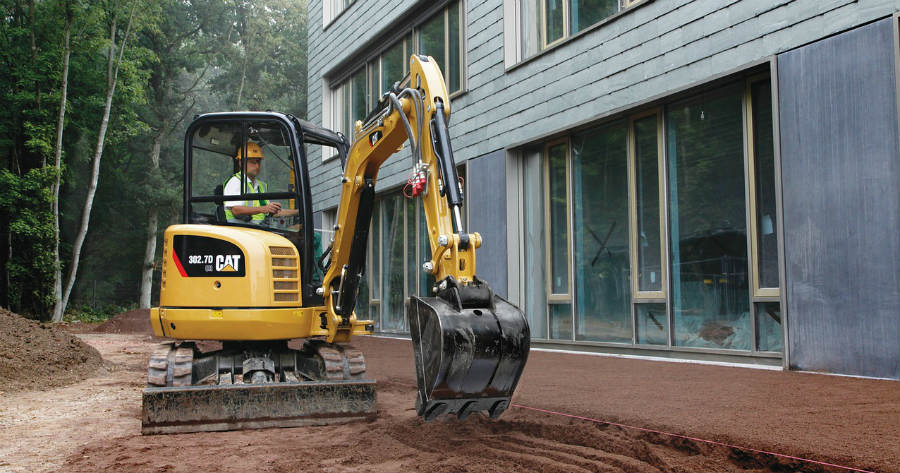 Renting Tips
Check these tips on renting mini excavators to help you cut down the expense:
Inquire from 3 – 5 different rental companies. They may have different quotations for your location and can even give you a discount on additional items.
Keep watch on the prices of diesel per week. This way you can save on refueling costs.
Figure out the use of the mini excavator to be able to determine the accessories you need for the project. Limiting the additional accessories can lower the expenses.
Make sure that you have lubricants available. This can keep the mini excavator in top shape if you plan to rent it out for a month.
Cleaning up is work that you won't be able to avoid and extra hours for that mini excavator will just eat up most of what's in your wallet. Seek help from friends or neighbors that can help you with the cleanup and disposal of soil after the project.
Take care of the mini excavator! Make sure that you read the user manual and check the equipment daily after your work is done. Any damage on the equipment could lead to repairs, and you will have to shoulder that expense.
Avoid injuries and gear up for the job!
There are many brands of mini excavators out there for use. If you plan to rent one today, you can check out Herc Rentals, T.W. Nickerson, and a lot more online for quotations and a list of mini excavators.
Mini Excavator Rental Cost Factors
These are the factors that matters:
Duration of the Project – the quote range would vary based on the time or length of use. There are daily, weekly and monthly rental rates that you can choose from.
The weight of the Work – the equipment you would need to use depends on the weight of the work to be done. Different models have limits on the reach that they can have when digging a deep hole or need different accessories to help then clear out the soil that has been dug out.
Equipment or Mini Excavator – the mini excavator is a factor itself because they have a certain lifespan that most contractors put into consideration when pricing is decided. The projected price includes the maintenance or repairs that they would need to do after a certain period.
Location – different cities offer different prices resulting from the cost of living. You would need to consider the type of land that you will be excavating. This can also determine the model that you can use for the job.
What Else You Need to Know
Here are some things that you may want to keep in mind regarding mini excavator rentals.
If you shall open your own rental business, buying mini excavators can end up costing $4,700 up to $50,000. Aside from the equipment price, you would also need to consider the insurance policies to be purchased for the business, the business permits, office space rent, and storage rent for your mini excavators for rent.
Always double check the status of the equipment prior to renting it. Remember, if it gets to you and it's faulty, that's money and a day of potential work wasted. Most rental companies provide demos of how the equipment works.
Always read the user or operator manual. This can give you so much knowledge of the multiple uses of a mini excavator. Seek assistance or hire a professional to do the work. Don't play with the equipment as this may cause injuries and damages if not handled properly.
According to Top ten reviews, the top 3 recommended brands for mini excavators are Bobcat, Caterpillar, and Hitachi.
Have a look at your nearest rental company today and start digging! You might even find some treasure deep within your land.