Are you moving to a new house but have no idea how to move all your stuff? It is indeed no easy task of packing your belongings, disassembling your furniture, and shipping them to your new abode. And what if your reliable and sturdy pickup truck just won't cut it anymore?  Well, you can hire movers to do all these for you.
But how much does it cost it hire movers? Let us remind you that their services do not come cheap. This article will help you budget your expenses. What you are about to read can be your basis when comparing the rates that you get from moving companies. Read on so that you can prepare yourself financially for that big move ahead
Average Cost of Hiring Movers
According to the American Moving and Storage Association, the average cost of hiring movers for an interstate relocation is $4300. This is based on a distance of 1,225 miles and a weight capacity of 7,400 pounds. For intrastate relocation, the amount will come down to $2,300. This will lend you the service of 4 movers.
The fee will be based on where you are moving, the size and number of items that need to be transported, and the services that you will avail of.
If you will move locally, the mover's fee per hour is $30 per person. It usually takes half a day for 2 workers to accomplish the job for a studio apartment. Meanwhile, you need to hire 4 workers for the whole day to move out of your 3-bedroom house.
Arpin Van Lines charges between $780 and $1,004 for moving items in 1 bedroom for those moving from Austin, Texas to Dallas, Texas. The distance is around 183 miles. If you are moving from California to Texas, which is approximately 1,250 miles, they will charge you between $2,494 and $3,393 for relocating a one-bedroom studio type house.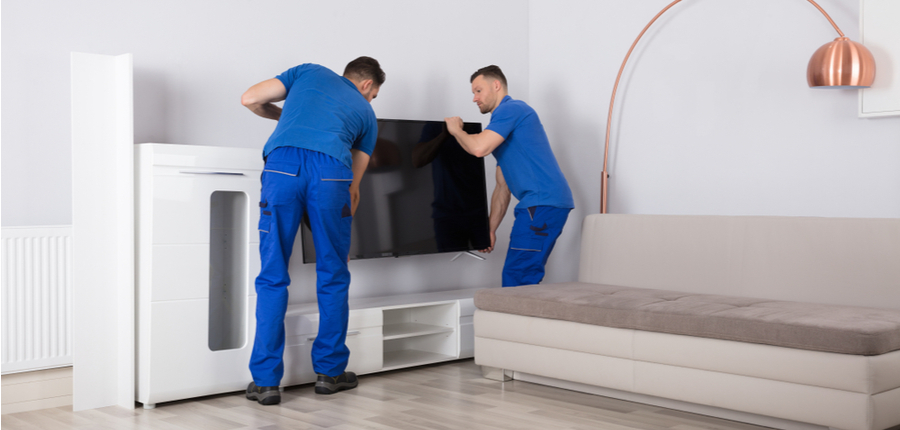 What Is Included
The quotation that your coordinator will give you most probably includes the transportation and labor costs such as payment for the fuel, driver, and movers. This also covers shipment valuation coverage or basic insurance. It should also include government taxes and fees.
Additional Costs
First, you have to consider your own transportation going to your new house. If you can bring your own car, you have to allow a budget for fuel. If you have to ride a plane going to the place of relocation, plane tickets and taxi fares are added costs for you.
If you are selling your old house, you have to clean it and make it look presentable for potential buyers. Since you are too busy packing and preparing for the move, you might have to hire cleaners to do this job for you.
You also have to hire a realtor or broker who can sell the house for you. You have to do the same thing to your new house. Before moving in, make sure that that is clean. If you do not have the time or energy to do this yourself, you have to hire house cleaners for your new home. The average salary for housekeepers is $30 per hour and it usually takes 2 hours to clean a regular-sized house.
Moving companies also charge additional fees for extra services like packing, storage, disposal, and handling of special items. For instance, the average rate for packing services is $30 per hour. You will be billed separately for this service.
You might also want to consider getting a moving insurance to be sure that your precious belongings are protected in case an accident happens. The basic insurance that comes with the original package just covers the standard rate of $0.60 per pound in case of damages.
Shopping for Movers
When looking for a moving company, make sure that the business is legit. You want to have people you can trust with your precious belongings. You can check the listing of moving companies in Better Business Bureau.
Factors Affecting Cost of Hiring Movers
The main factors that affect the cost of hiring movers are location, size and weight of your belongings, and the season or schedule of moving out and moving in.
Location – As mentioned earlier, the distance would be a big factor in determining the price of moving. The longer the distance, the more expensive it is to hire movers.
Size and Weight – If you have more belongings, they will weigh more and cost more to be shipped from your pick up location to your destination. You will also need to hire more people to get the job done.
Season or Schedule – Generally, it will be more expensive for you if your relocation date falls during the summer or every first or last weekend of the month. These are considered part of the peak season. On the other hand, you can save some bucks if you schedule your move on a weekday rather than the weekend.
Additional Information
Make sure you discuss every detail of your move with your coordinator or agent. This way, the moving company can give you a fairly accurate estimate of the cost of hiring movers. This will help you prepare your budget accordingly.
Take note that moving companies may ask for a deposit before they reserve the date for you. Should you decide to cancel or move your schedule, you may incur corresponding fees. Take note of this when you close the deal with your agent.
Do what you can to reduce your costs. Be the one to pack your belongings or ask family and friends to help you out. Donate and dispose of items that you will not be needing anymore. Hold a garage sale for items that can still be of use to others. Relocating can seem like a daunting task. But with proper planning and research, you can prepare yourself for the effort and costs that come with it.