The average heating oil tank replacement price depends on several factors, one of them is the location. In Massachusetts, the cost to replace an above-ground oil tank starts at $1,500 and can reach $2,500. This estimate includes certifications for disposal of the sludge and the tank. Meanwhile, an underground tank removal is estimated at $1,000 to $2,500, according to the Massachusetts Department of Environmental Protection.
On the other hand, an oil tank replacement in Maine only costs between $800 and $1,100 while a new oil tank installation in New Jersey costs about $1,500. In Connecticut, the ballpark cost for a 550-gallon outdoor underground tank installation is at $1,300 while a 275-gallon aboveground tank costs about $2,200.
Cost According to Tank Properties
The size, type, and placement of the oil tank are three of the major factors that influence the average heating oil tank replacement price. Usually, contractors require a phone call and an on-site visit before they give any price estimates. However, the Century Utility Systems Inc. in New York offers a comprehensive list of installation costs in their website.
Here are the oil tank prices charged by the company according to the size, brand, type, and placement of the oil tank:
275 gallon Roth basement tank – $1,500
275 gallon Granby Ecogard basement tank – $1,495
330 gallon Granby Ecogard basement tank – $1,695
330 gallon steel basement tank – $1,495
275 gallon Roth outdoor tank with hood – $1,750
275 gallon Granby Ecogard outdoor tank – $1,295
275 gallon Granby Eco 20 Plus outdoor tank – $1,895
300 gal ZCL outdoor tank – $1,675
300 gal fiberglass ZCL outdoor tank – $1,775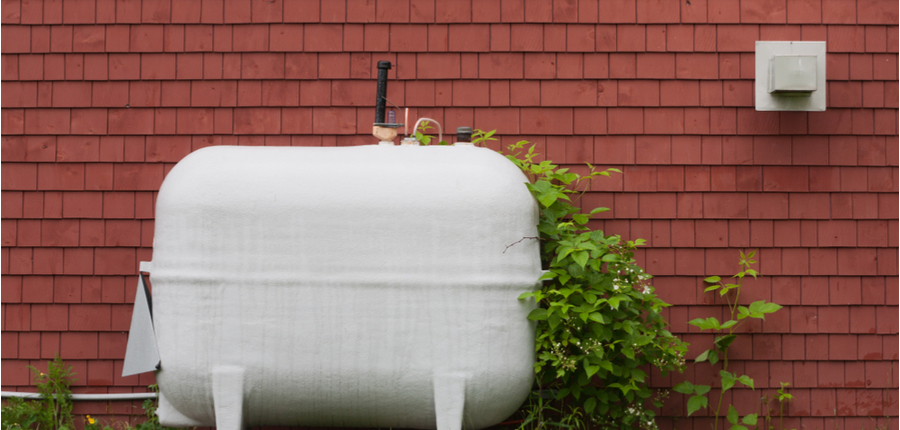 Remediation Costs
Sometimes, replacing an old oil tank could also bring about other unforeseen costs. For example, when an oil tank leaks and contaminates the surrounding soil and groundwater, the homeowner must pay the appropriate remediation costs depending on the extent of the oil spill and state regulations.
The Environmental Protect Agency (EPA) estimates that the cost for the average cleanup is at $130,000. If only a small area of soil was contaminated, cleanup will only cost $10,000. For worst-case scenarios, EPA states that remediation can cost between $100,000 and $1 million.
Just like the cost to repair heating oil tank, remediation costs vary based on location. For example, a cleanup for an underground tank leakage in New York may cost $20,000 or even more. In New Hampshire, oil cleanup in a residential area costs at least $15,000. Meanwhile, a severely contaminated area in Oregon may require $4,500 to $6,000 in remediation cost. If the contamination reached the groundwater, remediation can run to $10,000 and above.
In the case of an underground oil spill, soil testing is required to determine how much is oil is absorbed by the soil. Soil testing normally costs about $375 to $500. Soil testing is also performed after a cleanup to make sure that no oil is left in the ground.
Permits and Risk Assessment
To avoid any untoward events and high remediation costs, the city or state requires a permit before allowing anyone to install or replace an oil tank. Expect to pay a few extra dollars for certifications and risk assessments in addition to the cost to repair heating oil tank.
Depending on where you live, a municipal permit costs anywhere between $75 and $200. There are also cases wherein the state deems it necessary for extremely old and damaged tanks to be decommissioned. After decommissioning, a risk assessment is then required to test the soil and groundwater for any possible contamination. Tank decommissioning with risk assessment costs no more than $3,000.
Other Related Costs
Pumping and transferring leftover oil
Before installing a new oil tank, all the oil contained in the old tank has to be transferred first before removing the tank. Depending on the service provider and the amount of oil that needs to be transferred, the cost of pumping out the oil ranges from $145 to $195.
Above-ground outdoor oil tanks are very susceptible to the elements. To protect it, you may choose to install a tank tub. Also known as oil tank enclosure, tank tubs may cost anywhere between $380 and $1,555 and can fit most 275- and 330-gallon tanks.
Regulations
Heating oil tanks are excluded from federal regulations. However, you are still liable as a homeowner to the state or city, whichever is in charge of the regulations for underground storage tanks.