When the winter season slowly bites in, people resort to having a nice mug of hot cocoa, or coffee. Some even prefer hard liquor that heats up their system. Another thing we can use to fight off the cold is a toasty, cozy fireplace.
In this article, you'll get to know the cost to build a fireplace, as well as the different types of fireplaces.
Fireplace Installation Average Cost
There is a wide variety of fireplaces and all of them have different prices. You can have professionals install it for you, or you can try the traditional Do-It-Yourself style.
The average cost to have your own fireplace could range from $200 up to $10,000. This depends whether you purchase electric, wood, or brick fireplaces. There are also different choices from freestanding, wall-mounted, inserts, or built-in fireplaces.
For your standard electric fireplace, it could range from $88 up to $1,500 if you choose a DIY project and purchase the unit from Walmart. Delivery costs will be provided before check-out. This could range from $8 up to $20.
If you are looking for the brick fireplace cost, it depends whether you will be using a wood, gas, or electric fireplace insert. The average price of a freestanding electric fireplace with the brick stone design, it could cost around $600 to $1,000 on Overstock.
If you already have a wood-burning fireplace, converting it to gas would cost upto $600.
Built-in brick fireplaces with gas inserts could cost around $5,000 to $10,000 the most. This has brick panels (inner and outer) for around $1,500 to $3,000 and gas inserts that cost $3,800 or more.
Brick fireplaces with wood-burning inserts would cost around the same price as a fireplace with a gas insert. The difference is in the price of the insert and the material or wood to be used. Wood stove inserts could cost around $1,399 to $4,000.
Inclusions
Here are the items included in each purchase that you will decide to make:
Standard Electric Fireplace
Freestanding/Mounted unit
Delivery – up until the curbside of your residence
Built-in Brick Fireplace
Gas/Wood Insert Unit
Delivery
Installation and Labor cost
Brick panels and Mantle
Inspection – this will be done to see if any other construction or cleaning work has to be done on both hearth and chimney.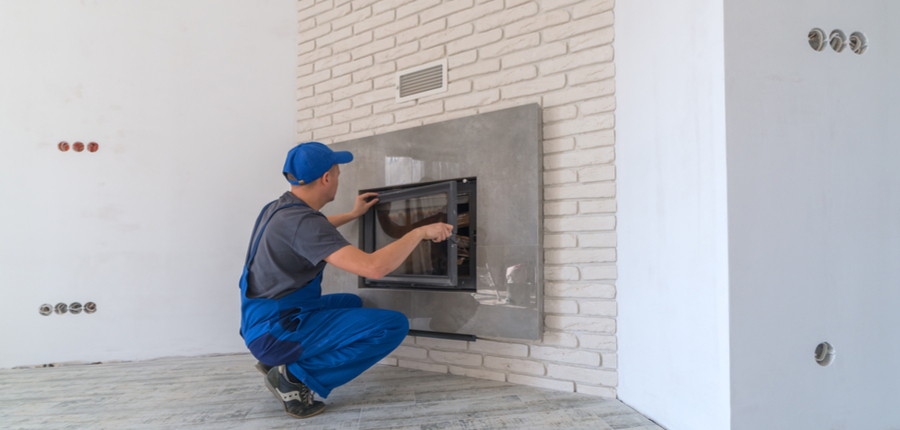 Other Costs to Consider
Here are the expenses that you would need to consider which are separate from the above costs:
City Permits – the city permit fees can vary from city to city. This could range around $30 – $600.
Chimney Cleaning – you would need to have the chimney cleaned from time to time if you use gas or wood-burning fireplaces. High's Chimney offers cleaning services at affordable prices.
Wood – if you live far away from the forest where you can just gather firewood, you would need to purchase them at the nearest lumber store. This could cost around $52.
Propane Refill – if you choose to have a gas insert, you would need to purchase gas refills for the unit.
Cleaning materials
Fireplace Accessory and Tool Set – you will need this for wood burning fireplaces. This may cost around $40 to $100 depending on style and brand.
Buying Tips
Here are some tips that you can work on purchasing your new fireplace:
Finalize the mode of work that you will be engaging in. This way you'll be able to sort out the expenses and weigh out whether doing the work yourself or hiring a professional installer is what you would want to do.
Prefabricated fireplaces or fireboxes will give you an easier time shopping, and installation would be easier as well since the contractor wouldn't have to assemble the unit, unlike other fireplace options.
To cut down on the expense of chimney cleaning, you can resort to a vent-free electric fireplace. This way you would be able to avoid having bad fumes in your home and you would also stop having someone climb into your chimney for cleaning.
To avoid extra costs of excavating a portion of your wall, you can purchase a mounted electric fireplace. You can also choose to purchase a freestanding wood or gas fireplace which you can have connected to your vent or chimney.
You can purchase wood per box at Firewood. There are many options that you can choose from when it comes to the scent of the wood.
You may want to consider Woodland Direct, Heat'n'Glo, Stone Contact, and many others for your fireplace installation and accessory purchase.
Fireplace Installation Cost Factors
Here are a few factors that matters:
Materials – this depends on the type of fireplace that you will be installing. There are gas inserts, prefabricated fireplaces, outdoor fireplaces, etc.
New or Redesigned/Rebuilt – this pertains to the installation of the fireplace itself. It would certainly cost more to have the area of the fireplace redesigned. Since you would need to clean out the area where the old fireplace was, remodel it to fit the building code, and find a suitable insert that would fit the original hearth. While installing new fireplaces in undesigned houses will have less clean up work and inspection.
Design and Accessories – It could be a series of brick panels, marble mantles, insulation panels, etc.
Location – you would need to have a professional inspect and provide blueprints on how to place your new unit. The professional will then have to abide by your city building code and get the necessary permits that you would need in order to have the project started.
Source of Energy – choosing between gas, wood, or electricity can all take a toll on the expense. This will also be considered as a running monthly expense for the user.
Chimney – the chimney takes in all of the chemicals that have been used by the fireplace. You would need to purchase a fireplace that would match the chimney capacity and make sure that no biohazards remain after each use.
What Else You Need to Know
If you've decided on having a fireplace installed in your home, there would be many types to choose from.
Vented fireplace – this type of fireplace will use the chimney or flue in order to expel the smoke that will be created by the stove. It relatively costs more than the vent-free fireplace since you would need to have the chimney cleaned annually.
Vent-free fireplace – this type mainly falls on electric fireplaces that don't really burn or produce actual fire. Most electric fireplaces only provide the visual feel, and let the built-in heater do the actual work of a fireplace.
Wall-mounted fireplace – this can either be vented or vent-free. Typically any fireplace that you slide into a higher portion of the wall can be considered as a wall-mounted fireplace. They would be a little more expensive than freestanding fireplaces because they would need additional stands or mounts.
Freestanding fireplace – this is the most flexible purchase that you can make. Some freestanding fireplaces have hoses that divert the smoke created into a vent or chimney while other freestanding fireplaces are top vented wherein it has its own vent to expel smoke. These fireplaces are mostly used outdoors.
Now that you have the choices laid out for you to choose from, take your pick and have a fireplace installed today!