Want to have hardwood floors installed in your home? Are your worried about the expense?
Engineered hardwood captures the beauty of solid hardwood flooring at a cheaper price. Maintenance cost is low too. Also, the flooring is less likely to expand, contract, or even shift compared to solid hardwood floors because of its stable core.
Engineered Hardwood Floor Average Cost
From the following providers, the engineered wood flooring installation cost ranges between $0.75 and $20.00 per square foot.
Flooring Direct in Dallas, Texas – Engineered hardwood flooring prices start at $5.98 per square foot installed.
Ocotillo Floors in Mesa, Arizona – Engineered hardwood floors are priced between $3 and $5 per square foot for 3-ply, $6 and $9 per square foot for 5-ply, and $10 and $14 per square foot for 7-ply or higher.
Floor It San Diego in California – Flooring using engineered hardwood is priced at $5.49 per square foot.
Sunshine Interiors in Lakeland, Florida – Engineered hardwood flooring are priced ranging from $0.75 to $6.00 per square foot.
Remodelling in Philadelphia, Pennsylvania – For engineered hardwood flooring, the materials are from $4 to $12 per square foot while the installation charge is from $3 to $8 per square foot.
The following are just some data from Lowe's showing the different engineered hardwood specifications and pricing:
3-in Gunstock Oak Engineered Hardwood – $2.79 per square foot
3-in Natural Oak Engineered Hardwood – $2.79 per square foot
5-in Gunstock Oak Engineered Hardwood – $2.99 per square foot
5-in Cinnamon Maple Engineered Hardwood – $2.99 per square foot
12-in Forest Oak Engineered Hardwood – $4.79 per square foot
12-in Bamboo Engineered Hardwood – $4.79 per square foot
12-in Meadowlark Poplar Engineered Hardwood – $5.89 per square foot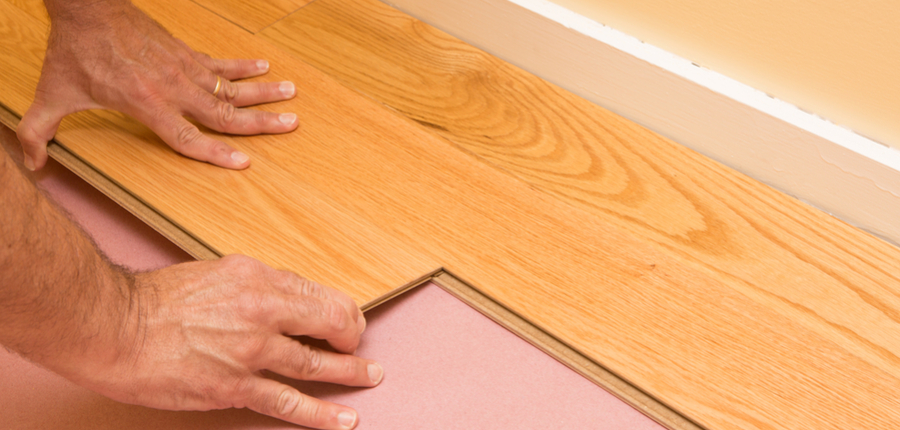 Inclusions
Engineered Hardwood.
Other Materials and Supplies such as adhesives, nails, thresholds, and moldings.
Labor to install the flooring including costs for preparation of the floors before installation, and basic clean-up after.
Other Costs to Consider
The following are the other costs necessary for the project:
Furniture Removal and Replacement – The cost will depend on the number and sizes of the furniture to be removed.
Storage for the furniture will also be an added expense if you don't have available space in your home. You will also have an additional cost to pay when the furniture is replaced back after the project is completed.
You can ask the installers to do the furniture removal and replacement for an added fee.
Cost to Remove Old Flooring 
Repairing and Preparation of Subfloor – When the old flooring is removed the subfloor will be uncovered. If the subfloors need work, the repairing would be a necessary expense.
Buying Tips
Various options are available for engineered hardwood flooring. If you don't have any idea of the type of wood and style to buy, you can choose and decide better if you order samples of the flooring. You can also browse through available catalogs for inspiration.
When choosing, look at options for the richness of natural colors, and grains, among other features. It will enable you to choose a flooring specification that will work best with the room where it will be installed.
It would also be best to ensure that you choose a CARB2-compliant engineered flooring. Being compliant ensures that the product meets the indoor air quality guidelines in the world. Make sure you don't buy engineered flooring which emits VOC's and formaldehyde.
As for choosing a hardwood floor installer, make sure that you hire a professional installer with insurance and can provide workmanship warranties.
Engineered Hardwood Floor Cost Factors
Wood Type – Engineered hardwood can use several wood types. The options available are Maples, Oak, Hickory, Cherry, Walnut, Birch, Acacia, Tigerwood, and African Mahogany, among others. The different types of wood materials cost differently.
Thickness of Wood – One difference of using engineered hardwood from solid hardwood is the thickness of the wood. Engineered hardwood is expected to be less thin than solid hardwood and is available in thickness width from 3/8" to 1/2″. The thickness is a cost determinant.
Number of Plies – Engineered hardwood for flooring is made up of natural wood at the top and bottom layer with the middle built from several layers of plywood. It is available in 3-ply, 5-ply, 7-ply, or higher. The higher the plies, the costlier, the hardwood.
Finish and Styles – Finishes and styles of engineered hardwood flooring can range from traditional to specialty designs. Some engineered hardwoods have multi-tonal features. The different finishes and styles cause the differences in pricing.
Width and Length – Longer and wider wood planks look more appealing and hence, is more expensive than shorter and narrower planks.
Brand – Engineered hardwood is There are manufacturing companies that have been in the business for some years and have built their reputation for their quality engineered hardwoods. Expect the cost of well-known brands to be higher than other brands.
Installation Options – Options to install engineered hardwood flooring include float or glue, staple, fasten, or click and lock. The types of options have different costs.
Existing Conditions – The conditions of the subfloor, as well as the shape of the room, can cause the prices of installation to increase.
Size of the Room – It is expected that the bigger the size of the room where the hardwood flooring will be installed, the higher will be the materials and labor costs.
Warranty – Different warranty periods are available for both for the materials and the workmanship of the installer. The longer the warranty period, the higher the cost.
Location – Material and labor costs may differ per location.
What Else You Need to Know
To ensure that your engineered hardwood flooring will last longer, care for them using polisher products.