No wardrobe is ever complete without the mirror. We often take these handy tools for granted and we often forget just how convenient these things are. From checking our looks for a job interview to seeing how our styles stand out before a date, mirrors are inseparable from our daily lives.
Over time though, mirrors do fade in luster. Cracks or dulling can appear as the material naturally ages. But, whether you have ordinary dresser mirrors or family heirlooms, we've got you covered on how much does dresser mirror replacement cost?
Dresser Mirror Replacement Average Cost
If you're looking to have your dresser mirror replaced, you have two options. You could either buy a new mirror from the get-go or opt to resilver the said mirror.
New dresser mirrors are offered in various online retail shops. Dresser mirror replacement costs vary due to the quality of the mirror and the furniture, the presence of a dresser, and the product manufacturer. Also needed to be taken into account are the dimensions of the mirror.
These are several of the prices for new dresser mirrors:
Wayfair sells dresser mirrors from as low as $40 to as high as $850.
Havertys sell dresser mirrors at a price ranging from $150 to $500.
You can also buy mirrors with accompanying dressers. The following are the prices for a dresser with mirror:
From as low as $640 to as high as around $1,900.
Price ranges from $54 to $2,800.
Gallery Furniture. Prices between $400 and $4,000.
Havertys. Between $700 and $2,400.
Alternatively, if the said mirror is expensive or if it possesses a sentimental value, you could resilver it. Resilver mirror costs depend on the dimensions of the mirror and the quality of the glass.
Historic Interiors resilvers mirrors at a price range of between $58.50 and $312, depending on its dimensions.
Bear Glass charges $15 per square foot to resilver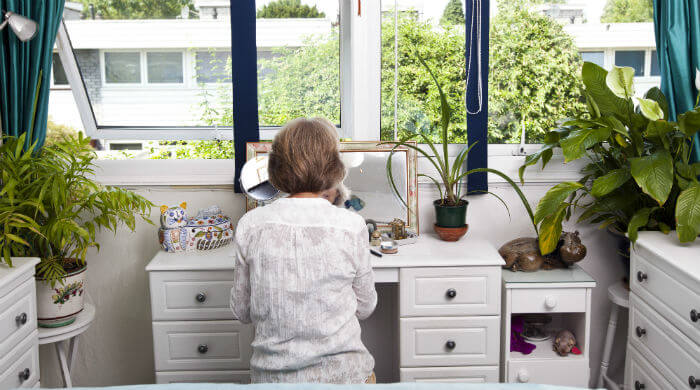 Inclusions
If you chose to buy a new mirror, the dresser mirror replacement costs include the replacement mirror along with the dresser (if you opted to get one too). Delivery costs of the new mirrors are also included by the dealer.
On the other hand, if you chose to resilver the mirror, the cost for the treatment and repair of the glass are included. This covers the chemicals to be used, the treatment equipment, and the curing of the glass.
Other Costs to Consider
There are other expenses that could crop up along with the resilver mirror cost.
Pickup and Delivery Costs. Resilvering mirrors is a long process and can take as long as 4 to 6 weeks to be finished. This means that mirrors need to be picked up or shipped to the facility of the service provider. Once the mirror has been treated and repaired, it's also shipped back to the owner. These costs are billed separately than the resilvering
Other Repairs. Dull and faded silver may not be the only part of the mirror needing repairs. Other cracks and chipped damage also need to be addressed so that the mirror is back to optimal conditions. These repairs are outside the basic resilvering
Repackaging and Handling Costs. Accidents can crop up along the way and damage or break your mirror. You could arrange with the service provider to add more protective measures to the mirror.
Buying Tips
Whenever faced with a replacement to a dresser mirror, think about how much you're willing to shell out. For inexpensive mirrors which possess little to no sentimental value, you could opt to buy a new mirror instead. Resilvering is a long and costly process and should only be reserved for expensive mirrors or those of significant value.
Also, as dresser mirrors may come with dresser furniture, you could opt to buy a mirror instead. The furniture is often more expensive than the mirror itself. This simple tip can save you as much as a few hundred dollars.
Get at least three price quotes from different service providers. Online services such as Promatcher can link you to nearby mirror repair and resilver servicers. You could have your mirrors resilvered by Historic Interiors or Bear Glass.
DIY Mirror Resilver
Alternatively, you could also resilver your mirrors on your own. Note, however, that professional services still offer better quality results. Take safety precautions as the chemicals release fumes that can irritate and cause harm.
Basic mirror resilvering tips can be found in online guides. Here is how to resilver mirrors DIY:
As a safety precaution, you first need to make sure that there is sufficient circulation of air. This prevents the chemical fumes from being inhaled. Having fans or blowers around can help a lot.
The first step involves the removal of the old coatings. Next, clean the surface and remove any debris as this can affect the quality of the glass. Avoid using cleaning solutions.
Apply silver nitrate and let it cure for 24 to 48 hours. Seal the silver by coating it with copper paint. Cover this by adding a coat of gray paint.
You can purchase mirror kits with the chemicals at Angel Gliding. The kit ranges from $49 to $1,385. Copper paint, meanwhile, is sold at eBay at a range between $4 and $21.
Dresser Mirror Cost Factors
The cost for dresser mirror replacement are affected by the following factors:
The length and width of the mirror are the most important factors in the price. Mirrors with larger areas are charged more and those with smaller ones are charged less.
Presence of Furniture. This applies to new dresser mirrors. As mentioned earlier, the dresser can be just as expensive as the mirror itself.
Different manufacturers offer mirrors with different qualities and properties. Higher-end makers charge higher for their dresser mirrors and accompanying furniture. Sort through various brands before settling for one.
Service Provider. For resilvered mirrors, resilver mirror costs vary by the service provider. Some providers charge lower while others charge higher. Always obtain at least three price quotes before deciding where you'd have your mirror resilvered.
Mirror Quality. For new mirrors, a mirror's reflectivity and flatness are determiners of how expensive it can be. In resilvering meanwhile, higher quality mirrors are treated more carefully, accumulating the handling costs.
Antique mirrors to be resilvered are given closer attention. Also, older mirrors tend to have other damages that need to be addressed too. This leads to a higher total cost.
Prices naturally vary per state and country. Aside from this, the farther you are from a service provider's facility, the costlier the expense is. This is due to the transportation and delivery costs (for resilvering mirrors).
Mirrors reflect how we look during some of our most important and defining life moments. It doesn't hurt to pay attention to its condition too and to repair or replace it before it becomes too damaged.