When buying clothes or any items made of fabrics, it is important to take time to look at the tags that are usually placed on the inner nape or waist side of a shirt. You should see, "Do not iron", "Hand-wash only", "Do not bleach" etc. These are indications or specific instructions on how to clean the items to maintain their quality so you could use them for the longest possible time.
But when the item is labeled as "Dry clean only", you will know instantly that you are stuck with an extra cost and a dent on your budget the moment you bought it up to the rest of its useful life.
Dry cleaning is the process applied by cleaners to fabrics that are too delicate to be washed with water and any water-based cleaning solution and in a washing machine.
So in case you have items that need to be dry cleaned specifically comforters, you may be wondering how much it cost as well as how much to clean down comforters if you have them as well.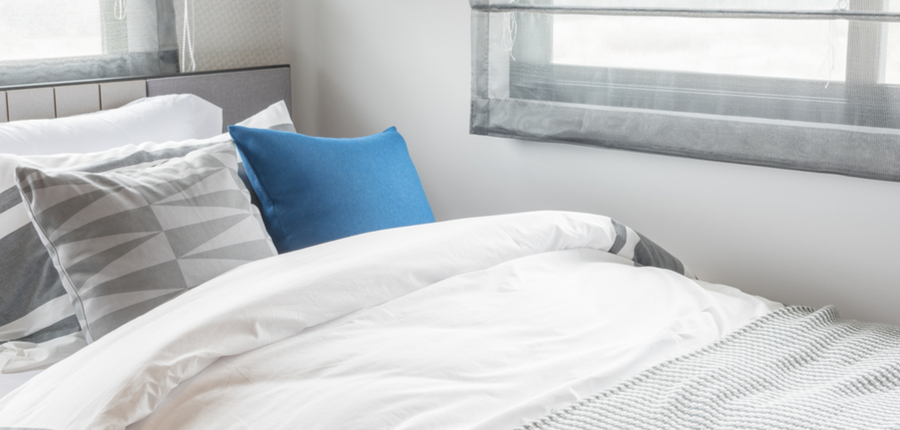 Average Cost to Dry Clean a Comforter
Expect the dry cleaning service to vary depending on several factors such as the choice of the dry cleaners, the location, etc. But according to FirstQuarterFinance.com, the average dry clean comforter price ranges from $20 to $30.
How much does it cost to clean down comforters in case you might want to know considering its delicate materials?  The Wash Depot Laundromat's price for down comforter dry cleaning starts at $40.
What are Included
How much does it cost to dry clean a comforter would typically include the cost of the solvent used to clean the comforter, the service itself, the electricity, the cost the service of the machines used and some other overheads.
Unlike traditional laundry washing that uses water and detergents to clean the clothes and other items made of fabrics, dry cleaning uses chemical solvents and of course without water although it also involves another form of fluid which is highly flammable and can be toxic if the dry cleaners use the old chemicals that were now being regulated. Because of this, more dry cleaners stay away from these toxic solvents and use a more eco-friendly process.
Additional Costs
Typically, those extremely dirty comforters and those with excessive animal hairs are charged extra while those which are pet soiled are charged double the price due to being processed solo and the added cost for sanitizing the equipment used.
If you are too busy to drop your laundry or to pick it up after cleaning, most cleaners do these services at an extra cost of around $20 at most.
Typical dry cleaning takes a few days before you could pick up your comforter. But you may also request for an express dry cleaning if you need to use it soon at double or even triple the standard price and you could get it the same day or after only a few hours.
Some dry cleaners also offer premium services that include multi-level or multistage process, hand-finishing, and minor repairs, as well as the inclusion of insurance coverage.
The average costs of other dry cleaning services for different items are the following:
[wpdatatable id=41]
Shopping for Comforter Dry Cleaning
Most Laundromats have a complete line of cleaning services that include dry cleaning for comforters.
You can also find some laundry services near your area through the FindLaundry.org locator.
If you want to do your own dry cleaning at home, there are several dry cleaning kits available online that you could purchase.
Factors Affecting Cost to Dry Clean a Comforter
Laundry or dry cleaning services would normally be charged differently depending on several factors that are normally present in any type of business operations along with all other things. Some of these include:
The solvents and chemicals used – the variety that the dry cleaner uses hugely impacts the pricing especially if the local law regulates the use of these chemicals. That is why you can see a lot of laundry and dry cleaning facilities switching to organic and environment-friendly cleaning solutions which naturally increases the pricing.
Size of comforter – most dry cleaners charge by the size of the comforter which could be single, queen, or king size. The larger the size, the more expensive the cost to dry clean these comforters.
The type of materials or fabric – the cleaner would also look into the materials that each article for dry cleaning are made of as there are some fabrics that are too meticulous and sensitive to clean than others. A perfect example is the case of down comforters which are typically more expensive to dry clean compared to alternatives.
The cost of doing business – this involves all the costs that are necessary for the operation of the business such as the rental of the space, the salaries of the employees, the electricity cost among others. Expect these to affect the pricing of the dry cleaners or any type of business for that matter.
The cost of living in the location – when you are residing in a place where the cost of living is high, all prices within that location would definitely follow.
The dry cleaning equipment – the type of machines being used in carrying out the services would also affect the cost and those which utilize a more advanced technology would definitely cost higher compared to their counterpart.
Local taxes and fees – aside from the usual taxes on sales and services, the regulation on the use of solvents and chemicals also would also increase the dry cleaner's tax and permit-related costs which are naturally passed on to the consumers in the form of the rate of service.
Extra service – the cost of dry clean comforter price is pretty straightforward and the cost would definitely increase if you prefer to avail of some extra service such as express cleaning, repair for minor damage, and additional insurance coverage.
Additional Information
If you think you would have issues with dry cleaning of any items when they become dirty, do not buy them in the first place. It is easy to spot those fabrics that require dry cleaning. Look for its tag. If it says dry clean only, then just leave it or look the other way.
If you have no choice as some items must have been just given to you as a gift, it really does not hurt to wash a comforter just as long as you are very careful. And a little bleaching for the stains may damage a bit in terms of quality but that was just a little trade-off if you really do not want it dry cleaned.
If you think you would be needing the service quite often like a few times in a month, ask the dry cleaners for a discount for a recurring customer.
As a precaution, always take a picture of the items before turning it over to the dry cleaners as this would be your evidence later on if there has been damage done on your comforter.