If you are planning to build a house and you're not sure how to start, then let this be a tour for you to complete your dream house!
Houses, no matter what the size will always depend on the foundation it is standing on. In order to be able to assure the safety and security of a building, the U.S. government has set standards which have been called the Building Code.
When starting the project, the first thing to establish is the concrete foundation of the house or building. The concrete foundation rate can be manipulated by the total measurement of the area in terms of width and depth.
Concrete Foundation Average Cost
To determine the average cost of the concrete foundation, you should first check your county's local building code. There may be specifications on what size your slabs should be for you to be compliant.
For Day's Concrete Floors, Inc., the concrete foundation cost per square foot would be an average of $5. This is the actual estimate that they have for a concrete slab that is 6" thick.
In other companies, they may offer concrete slabs for a rate of $3 to $6 per square foot. The concrete foundation rate would only be actually provided once you and your contractor have discussed the details of the project. Most people have spent a minimum of $7,000 up to $20,000 to complete the foundation of their project.
Here is a breakdown of the material cost:
Concrete mix and Slabs (plain) – $3 – $5
Subgrades or Subbases – $1.40 – $3
Grading procedures – $50 – $70 per hour
Concrete finishing – $1.50 – $2 *this would include concrete foams, form liners and etc.
Concrete Reinforcement – $0.15 – $0.30
Manpower services will also be included which can range from $2 to $4 per day per worker.
Inclusions
As you and your contractor discuss the vision you are trying to achieve, he will list down the materials that will be included in the house foundations pricing.
Basic inclusions would be;
Delivery of Materials
Use of 1 cement mixer and 1 concrete truck (for pouring the cement into slabs)
Contractor's fees (for supervision of the work)
Labor
Materials used for the project (cement, sand for subgrading, and curing materials for reinforcement)
Preparation and clean up (preparing land for initial construction and disposal of unusable leftover materials)
The house foundations pricing also varies if the project would be brand new wherein no construction work has previously been done or if there would be structures to maintain (refurbishing the foundation of the previous building and adding reinforcement). More materials may be included depending on the current state of the project. Prices may be subject to change depending on additional materials and work needed.
Other Costs to Consider
Though there are many materials included in the quotation of the concrete foundation, you may want to consider the following expenses that will arise;
City Permits and Inspections – city permits and inspections are needed prior to starting the groundwork. These may cost you $30 to $600 depending on your type of project and the area.
Additional Pump or concrete trucks – only one concrete truck is provided by the contractor for the project. If in any case that another one is needed, they may add an estimated cost of $850 to $1300.
Drainage and piping – to avoid water from spilling inwards to your basement or crawl space, foundation drains should be added. It can cost an average of $3000 or even higher depending on the total area.
Radiant floor heating – this keeps the structure warm with the use of warm water which flows through metallic coils. This can range from $6,000 to $14,000.
Overhead Covers or Tents – you may want to consider having a tent cover for the area that will be affected by the project. If the area is in open space, it is at risk of rain. It is best to keep an overhead cover in order to keep the slabs from diluting. You can find overhead tents for sale at amazon.
Cleaning materials – you will need to purchase cleaning materials for the aftermath of the project. You can also see which leftover materials can still be stored for future use.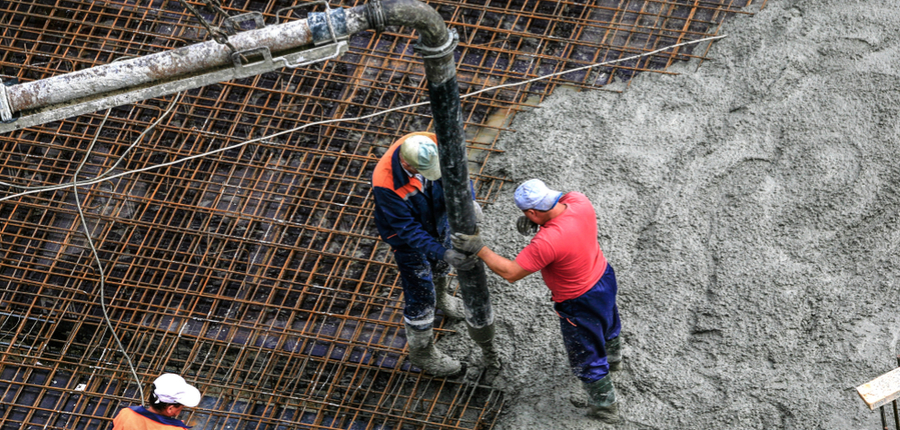 Buying Tips
Collect and Select – Collect 3 or more contractor information and quotations in your location. That way, you will be able to choose the most reasonable price with all of its inclusions. You can try to request quotations online from websites like Vranak Concrete, Bartley Corp., Doggett Concrete, and many more.
Brand Selection – If it would be possible for you and the contractor to discuss the brand and quality of the materials to be used, that would help you in cutting down on the expenses.
Time Management – Try to calculate the total time that will be spent on the project. Remember that the longer the project is to be done, the higher the expense for the daily labor rate.
Long lasting Materials – When constructing your building and its foundation, reinforce it and make sure that all materials will last long to avoid constant repairs.
Pricing and discounts – Try to ask the contractor if the labor cost can be added to the concrete foundation cost per square foot. Some contractors already add an average of $3 to $4 to the cost of the slabs per square foot to accommodate the labor cost of the skilled workers.
Concrete Foundation Cost Factors
Here are some factors that affect the cost of the concrete foundation;
Location – prices may differ from city to city due to the building code. There are different codes per county or area which affect the average cost of the slabs per square foot. In some states like Maine, the slabs need to be 16" thick and it should have a 2" thick styrofoam layer beneath the slab. That will definitely change the price since not only has the slab size increased but there is also a requirement for different materials.
Type of land – the land we are going to dig up in order to start the foundation process will be assessed. If the area of land needs further leveling then additional hours for grading may be added.
Weather Conditions – weather may be a great factor in the placement of your concrete foundation. Items or materials can be worn out in any case of excessive weather. You should determine the weather your city has in order to see what reinforcements you can add to the foundation to make it stronger and last longer.
The imagery of the total project – you will have to consider the total image or vision you have for the project. This means that your design for the foundation (which includes flooring) has to match the design of your house or building.
Labor – most contractors charge per day per worker. You have to determine the timeframe of the project in order to get to total estimate for Labor. This includes contractors' supervision and skilled labor workers.
Materials – the most important cost factor would be the amount of materials needed as well as the price on each material and equipment that will be used.
What Else You Need to Know
Now that you have a brisk idea of how much it would cost to have concrete foundations done, you may want to explore what other items you can use in order to make your foundations more stylish.
So far there are 3 styles available for your concrete foundations.
Plain Concrete foundation – is the most affordable one since the timeframe for completing that portion of your housing project is short. It also does not have many additional materials needed for the foundation.
Stamped Concrete foundation – rates could go from $8 to $18 per square foot depending on the number of colors and materials to be used.  This style gives out a stoney or brick feel.
Stained Concrete foundation – generally, this is the type of flooring that we see in mansions. Though you may think it's marble, don't be mislead by the beautiful mix of paint and sealants. This style can cost from $2 up to $25 per square foot.
These are just some additional things you may want to consider. They are optional for you to add depending on your dream house.
For the complete list of building codes per state and county, you can check out  Buildings guide. They have all the building codes listed on their site. You may want to check out your state's requirements.
If you have gone over all the information and have definitely made a decision to create your dream house, then contact your nearest contractors now and get a quote today.