Nothing beats sitting around a fireplace on a long winter night. As the fire burns bringing you warmth, it also sends fumes to the chimney including creosote, a highly flammable substance.
An efficient chimney sweep is needed to keep your homes safe from unnecessary fire. A chimney sweep's job is to ensure that creosote build-up is removed and, thus, make your fireplace safe to use.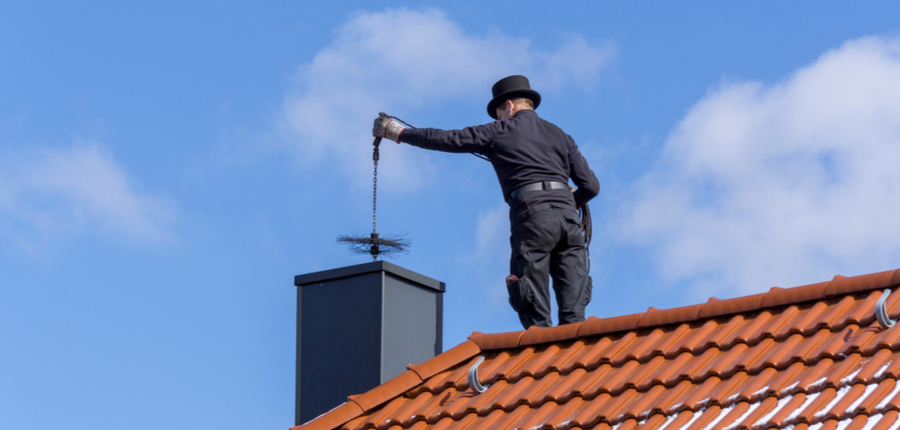 Chimney Sweep Average Cost
The cost of chimney sweeps varies per type of chimney. Sweeping a prefabricated chimney will cost an average of $150.00 while a masonry type will be around $200.00
A prefabricated chimney or a factory-built uses metal or other materials. A masonry or traditional chimney, the other hand, uses stone, blocks or brick and mortar. While a prefabricated chimney is available as a cohesive unit, a masonry type is built on-site and is part of the structure.
But if you don't feel having to pay that much for such service and if you don't mind getting your hands dirty, then you can try doing it yourself.
If you have the all the supplies and tools needed to do the job or if you feel like investing a little bit on the equipment that you can use over and over again, much better. It would save you around 60% of the cost. Sounds good, right?
Do It Yourself provides a 7-step guide on how to clean a chimney flue, if you want to try DIY.
Inclusions
What does a chimney sweep do?
Do a preliminary check on the chimney to see if it's structurally sound.
Do a rooftop check.
Sweep the chimney as well check the firebox and other parts of the chimney.
Recommend repairs, when needed.
Recommend a more in-depth inspection, such as a video inspection, when needed.
On the average, a chimney sweep can finish the job in half an hour to an hour per chimney with one flue. However, there are instances when the sweeping may take longer.
Also, a well-trained chimney sweep is expected to follow the "clean as you go" policy. It means that no dirt or mess from the cleaning will spread to the other parts of the house, a common concern for house owners.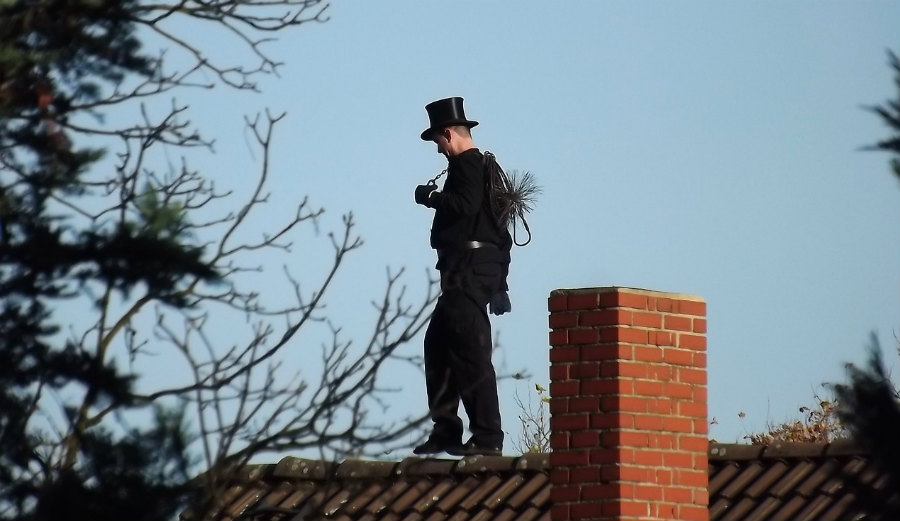 Other Costs to Consider
Chimney inspection is as necessary as chimney cleaning. Authorities require that chimneys are inspected at least once a year for soundness and to ensure that there are no obstructions.
There are three levels of inspections. On the average, level 1 chimney inspection price is about $75.00. Level 2 inspection, also termed as the video inspection, can cost $225.00. The other two levels are more in-depth inspections and correspondingly, cost more than the basic type.
Some companies are offering a lower rate when availing both inspection and cleaning. Chimneysweep.com offers inspection and cleaning for only $199.00.
Trip Charge for off-state Chimney Sweeps
When the chosen chimney sweep is from off-state, expect to pay more to cover the expenses travel to your place or also termed as a trip charge. The amount of trip charge depends on how far the job is from the chimney sweep's locality.
Hiring Tips
Many can provide the services to clean a chimney but don't just hire anybody. Hire someone with credibility.
To avail of the services of a reputable chimney sweep, ask for referrals, read on testimonials from past clients or better yet, avail a CSIA–certified chimney sweep. The Chimney Safety Institue Of America (CSIA) is a nonprofit organization whose mission is to educate and certify professional chimney sweep.
Do not be easily swayed by lower costs offered by companies or cleaners. There have been many victims of inefficient chimney cleaning. It is also important that a chimney sweep or its company has insurance and warranty to cover any eventualities. Companies who have insurance may have pricier services.
CSIA Chimney Technician Locator is a database which provides accredited chimney sweeps in your area or near to it.
Chimney Sweep Cost Factors
Type of chimney – Masonry chimneys are more complex to clean than prefabricated chimneys because of the materials used, and it's construction.
Number and shape of flue – A chimney may have more than one flue or venting system as in the case when the house has a fireplace and is also heated by gas oil. Both venting systems for the fireplace and the heater can be in one chimney. If there is more than one flue, expect to pay more.
The shape of the flue may also affect the cost. In instances when the flue is odd-shaped, expect a higher bill.
Creosote Build-up and Dead Animals – Sweeping is also expected to be pricier if there are blockages or very high build-up of soot and creosote in the chimney. Also, if there are animals stuck in the chimney, the sweep may charge more. To avoid this from happening, you should thinking about spending some money on installing chimney caps.
Reputation of the Company/Chimney Sweep – While everybody can clean a chimney, a reputable chimney sweep is more than just a regular cleaner. Sweeping a chimney is a more complex job than it seems because of the risks involved when not properly done. Those who are well-known for the quality of their service would normally charge higher than the rest.
Location – the price you have to pay for the service also depends on where you live. Factors like cost of living and cost of doing business, not to mention the competition in the area will always figure in the cost.
Accessibility – if the service company would need additional tools or equipment to clean your chimney due to accessibility issue, then expect to pay higher than usual.
What Else You Need to Know
Chimneys need cleaning at least once a year. However, cleaning can be more often depending on the frequency of fireplace usage as well as the type of wood burned, among others. An estimate is that cleaning should be every 50-60 fires.
The chimney is best cleaned during spring when it is not in use and no long queues for availing the services of an efficient chimney sweep. Old chimneys are also better cleaned first before usage.
Chimney sweeping is considered a technical work and a chimney sweep is a technician who takes care of your chimney to protect you from unnecessary fires. Thus, chimney sweep is a necessary expense for those with fireplaces and heating appliances.
It is one cost not to scrimp on as nothing makes a home more homey and comfy than the warmth from a fireplace. Remember, a clean and well-maintained chimney is important to a safe home.