Poultry and livestock have always been a means of living for most people who reside in grasslands and mountainous counties. Barns are not built just to shelter chickens, horses, and pigs, but they are also used for housing and events purposes.
This guide will walk you through the cost to build a barn, the different styles, and different uses for them.
Barn Average Cost
It depends on how big the barn would be, its main function, and the interior make of the barn itself. The average barn construction rate per square foot for a steel barn would be around $5 to $25. The average depends on the style constructed for the barn (straight wall or quonset) and the accessories added to the interior and exterior finish.
If you would purchase a 20×30 steel barn kit for $10 per square foot it would be a total of $6,000. To add an interior finishing like insulation and stalls, it could cost you around $1150 additional per stall installation.
If you choose to put 2 stalls in this barn kit, it would be an addition of $2,300. This now leads your total to $8,300. Take note that construction work for concrete foundations and the material for concrete foundations are not included.
Barn Geek offers to construct your barn using wood for $27 per square foot. If you would like to have a 20×30 gable barn, that would lead you to a total of $16,200. This comes as a standard kit and if you would like to add more height to your barn, you would need to add 5% of the total price for every 2 feet additional height.
DC Structures provide a wide array of barn kits with multiple functions for around a total price of $35,000 up to $250,000. They can make houses, commercial stores, etc. out of barns! Just name it!

Inclusions
Here are the items included in each barn construction rate provided:
Barn Geek's $27 per sq. ft. barn:
Materials – this includes the standard kit set containing the blueprints of the barn, post and beam frames, girts and purlins to connect the sides and roof, board and batten siding, roof sheathing, steel plates and brackets, and finally, 2 doors (size of your choice).
Delivery – the items stated above will be delivered to your location for assembly.
Labor and Service – once delivered to your location, you will have a team of experts assist you in assembling and putting up the barn kit. (concrete foundation work is not included)
Steel Barn Kit for $10 per sq. ft.:
Materials – steel materials forged and will be ready for assembly
Delivery – manufacturers will have the parts sent to your location for assembly and setup.
DC Structure's full package barn:
Materials – depends on the selected use and design of the barn.
Delivery – all the materials will be delivered to the site.
Labor and Services – professionals will be assisting in the setup and erection of the barn. (land preparation and concrete are not yet included in the package)
Other Costs to Consider
Concrete foundation – many companies will offer you full packages or prefabricated barns but somehow they will not include the concrete foundation and land preparation in the cost. Concrete foundations can be from $3 up to $10 per sq. ft. depending on the thickness and size.
Land preparation equipment – before laying out your concrete, you would need to have the land excavated, and then smoothened to be able to place your concrete slabs. You may be looking at a daily rent of $150 to $400 for each equipment needed.
Labor – though labor for the assembly of the kit is provided, the service for preparing the location has to be a different contractor. You would need to look for a general contractor that can help in the preparation of the land.
Additional accessories – if you plan to add more accessories to the barn, you're provider may be able to help you with a wide display and additional prices.
City Permits and Inspections – before starting the work, you would need the manufacturers inspect the land and create blueprints which abide by the city's building code. Then these plans will be sent to the city council for approval. Permits fees could be from $50 up to $600 depending on the city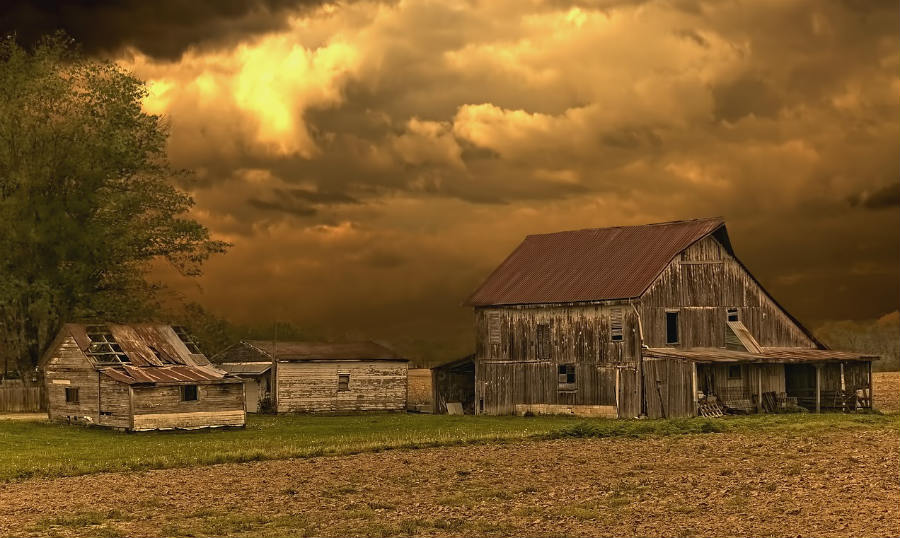 Buying Tips
Here are some tips that you can follow when you purchase and build a barn;
Many companies provide free estimates online. Take advantage and get at least 3 to 5 quotations. Compare which one provides the best offer.
When purchasing barn kits, get the information regarding the materials to be used such as the brand to be able to research on that certain product. Doing this will enable you to determine which lasts longer.
Steel barns are significantly cheaper than wooden barns. They last longer and need less maintenance. You may want to check out General Steel for more offers.
If you are having a hard time searching for manufacturers, you can try Sand Creek, Barn Pros, etc. for services.
Barn Cost Factors
City and Location – the city that the barn will be erected in is a major factor in the cost. The weather, city building code, and demographic placement of the area will alter the materials needed for the project.
Materials – steel, concrete, and different kinds of wood will affect the cost of the project. Their prices fluctuate depending on the changing market. Choose the best material that can withstand the weather in your area and make sure that the material brand is a reputable one to avoid labor shortcomings.
The use of the barn – you can use barns for business such as livestock, use it as a shelter for your horses and other animals, or use it as a shelter for your own. The use mainly dictates the interior and exterior finishes.
DIY or Professionally Installed – you would save so much if you are a very technical kind of person. If you do your own handy work, you would be able to mix and match materials for the project. You can be as diverse as possible as long as you still follow the building code. Professionals will charge fees to create and assemble your barn for you. This is more expensive since you are paying someone else to do the job.
What Else You Need to Know
Timber and pine are two of the best kinds of wood that you can use to build a barn. You can visit Global Wood for all your wood inquiries.
The more stalls you place inside the barn, the higher the price. Definitely, the more animals you shelter in your barn, the greater specifics you would need to include in your plan. This can raise prices significantly as there may be a need to add more materials to complete the design.
You can host birthdays, weddings, and all sorts of events in barns. Have one constructed for your wedding, you'll keep the barn to yourselves after the event!
Now that you have all of these at hand, go out an have a barn built for you now! You never know just how cozy it is to live in one.