Isn't it nice to drink your favorite wine, listen to some old tunes you used to love, share a wonderful conversation, and maybe even have some chocolates, all while soaking in a hot tub filled with rose petals and your significant other just beside you? Sounds exciting, huh? But there's only one thing stopping you: you don't have a hot tub that could fit you both.
Having a relaxing and romantic moment is not totally out of your hand. You can have that – that comfortable space while enjoying your time together. You would just have to buy a new hot tub. But what exactly is the average two people hot tub cost nowadays?
Average Cost of 2-Person Hot Tub
So let's say you're not really into creating a scene directly out of a pocketbook. That's fine. Whether it goes indoors or outdoors, for a sweet surprise, having quality time, relaxing on your own, or having fun with the kids, having a bigger hot tub could enhance your life in ways you didn't know it could.
For years, soaking in hot water or hydrotherapy has been a favorite pastime for many people around the world. It helps in fitness, recovery and even in some health issues. And having a bigger and more spacious one just makes it better because you can share all that advantages with someone else too… together.
As of writing, brand new 2 person hot tub in the United States range from $1,700 for a simple bare-bones hot tub which is at the lowest end of the spectrum, and $15,000 for high-end luxurious models.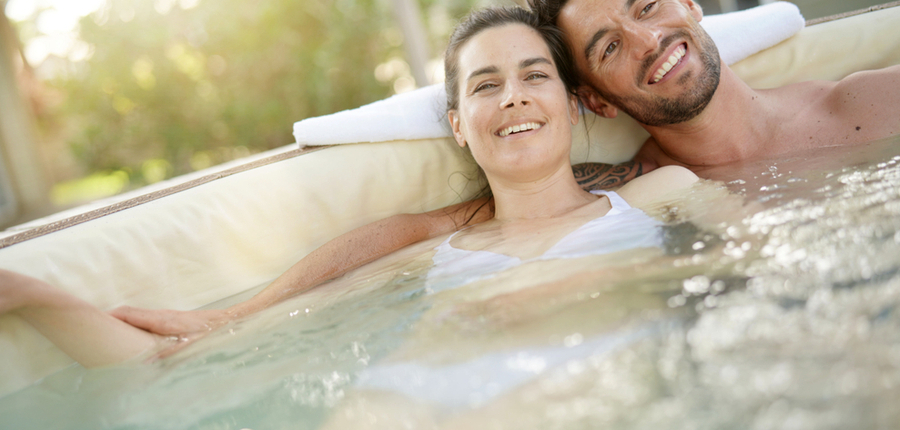 What are Included
Usually, when you purchase a hot tub, it comes with a warranty. It can be at least a year of warranty on the shell, plumbing, pumps, and electrical equipment. Most luxury hot tub dealers offer five, 10, with a lifetime warranty. Pre-owned units, however, do not really have warranties on them unless you buy it from a certified dealer. But the scope of that would only be good for a month except if you pay more for an extension.
Additional Costs
To keep the water clean, maintain temperature and protect the hot tub from other elements, you'll need a cover and this usually costs $225. Maintenance is an additional expense that you should consider. Now, low-cost hot tubs would probably need more maintenance. You would have to supply enough but not too much chemical and keep the correct pH level at all times.
For example, you need chlorine to keep your tub clean and your water clear.  You also need bromine to reduce the growth of bacteria and keep the area sanitized.
Eventually, maintenance will be a repeating expense. However, if you would go big and purchase high-end models which have additional features, then the need for using chemicals would be reduced.
Do you know how to install a hot tub? Unless you opt for the portable "plug and play" models, you'll probably need a professional to do it for you. And many dealers or retailers provide this service at 5 to 10% of the product cost. So, if you're going to purchase an $8,000 hot tub, you will have to pay another $400 to $800 on top of that for installation.
In addition, if you purchase a big and heavy hot tub, though shipping fee is covered, getting it to your home wouldn't be as simple. You'll probably require assistance from several people to carry it or have a crane transport it. And a crane will cost you an average of $200.
Shopping for 2-Person Hot Tub
Not sure where to purchase a two-person hot tub? Well, there are actually quite a lot of places that offer such.
Popular home improvement retail chains such as Walmart, Home Depot, and Lowe's offer low-cost hot tubs which price ranges from $1,700 to $6,000. Typically, what they offer are "plug and play" tubs which are known to be easy to install and perfect for small spaces.
To avail of high quality, top performing hot tubs, you could try Caldera Spas, Jacuzzi, Cal Spas or Sundance Spas. They specialize in everything about hot tubs, and they offer the latest and most innovative products. But, quality does come with a cost and their 2 person hot tub prices range from $4,000 to $15,000.
You could also try online, like Wayfair. It is an e-commerce company that sells home products where their two-person hot tubs cost around $2,300 to $5,600.
If you're looking for lower prices, you can try purchasing refurbished tubs. Examples of where you can get one are Young's Hot Tub Sales & Service Center, Lifestyles Hot Tubs, Craigslist, and eBay. But even a pre-owned hot tub will still cost you $1,500 to $5,000, considering the actual price of the tub, picking it up or getting it shipped, plus the tax, restoration, and installation. To make your search easier, you can use SearchTempest, a website which shows you results from Craigslist, eBay, Amazon, and others.
Factors That Matters
Now, to understand why there's such a wide range of 2 person hot tub prices and to see what makes a product high-end or expensive, here's a list of factors that could help you determine what kind of hot tub to purchase.
Features: What makes a hot tub high-end? Its functional and cosmetic features. A high-end hot tub has advanced jet systems, intuitive control panels, strong but silent pumps, entertainment, and a water care system which reduces the need for chemicals. Others even come with beautiful lighting and waterfall effects. Just remember, though. the more features a tub has the more expensive it will be.
Performance: low-end tubs are more likely to be underpowered. They provide weaker and less satisfying hydrotherapy experience compared to the strong pumps which high-end hot tubs provide. Furthermore, cheaper models tend to take a while to heat up. And once hot, couldn't maintain its temperature.
Material: generally, the material used to assemble a hot tub would affect its selling price. Molded plastic is definitely the cheapest while acrylic can cost you a bit more.
To sum it up and to make the $1,700 to $15,000 price range clearer, here's what you need to know: for $1,500 to $5,000, you can get an entry-level, plug and play hot tub. Often, it would be basic with few to no lights, weak jets, and simple controls. And, if you have the budget that ranges from $4,000 to $8,000, you can get a value-priced hot tub which offers attractive features and decent performance.
If you're willing to spend bigger, from $6,000 to $10,000, you'll get a premium hot tub with advanced engineering and enticing features. And lastly, for a full-on luxury hot tub experience, you'll need to spend around $9,000 to $15,000 or even more.
Usually, these kinds of hot tubs are packed with top-of-the-line features and with a warranty that could last a lifetime. But, if these prices don't sit well with you but you still want that intimate moment with your significant other, then you could try inflatable hot tubs.