Some homeowners want to enjoy waterpark-style amenities in their backyards, like a swimming pool with an earnest combination of vitality and glamor.
If you want a one-of-a-kind, multifunctional pool, consider adding a lazy river to your pool scheme. A lazy river will offer a gentle current that drives you around your pool.
A lazy river is fun for the whole family and is guaranteed to fascinate any visitor.  But before you get one, let us look at the lazy river pool cost.
Average Lazy River Pool Cost
Perhaps you are itching to know how much does the average lazy river construction cost.  Unfortunately, since the lazy river is mostly a customized pool, this means no river is like any other, and there is no accurate value for it.
However, you can get an exact cost by being familiar with the various factors that will affect the cost before building it. You should also acquire a quote from a pool expert.
These factors include:
The size of the lazy river pool is the most significant factor in defining the price. For every square feet, expect to pay an additional $100-$170.
The cost of living in your area will determine what you will have to pay for materials and thus, the lazy river construction cost.  Also, remember you'll  be paying for permits which will fluctuate from location to location.
Every river holds different construction price.  A pool for family fun or relaxation is classy and elegant, but pricey. Or it could be adventurous and exciting, which will also cost you more. So build a river that fits your personality and lifestyle.
Lazy River Speed and Dimensions 
When planning for a lazy river consider the speed of the current and its mode; whether it will be fixed or varied, or it will twist or go on a straight path.  Also, consider the length and dimensions. Obviously, the longer and deeper the pool, the more labor, and more materials will be required.
The elements that you choose will affect the lazy river pool cost. The most common material is the vinyl, which is easy to clean. The other one is the gunite or concrete pool, which is recognized as a premium material. It will cost more than vinyl. Lastly, there's fiberglass, which will cost between a gunite and vinyl pool.
The "extras", accessories like hot tubs, waterfalls and other water features, can cost you more than the lazy river itself. There are additional add-ons, such as a water slides and diving boards. There are also accents such as fire features, pool lighting, outdoor kitchens and more.
According to some pool professionals, the average cost of a 400-foot backyard lazy river will run over $600,000. Whereas, a simple lazy river in an oval shape will cost below $120,000.
In Springville, Utah, a man has an impressive 300-foot lazy river that is filled with 360,000 gallons of water. It has five waterfalls, a kitchen, and a hidden cave where they can swim into a tunnel, which is deep enough for scuba diving. The lazy river construction cost for this was $2 million.
In Dallas, a man named Eugene Lochman highlighted his unique lazy river on an Amazing Water show. The pool only cost him $280,000. It was designed by him, and built and maintained by Prestige Pool and Patio of McKinney.
However, if you want a plain no frills lazy river, you can check with Above Ground Pools Experts.  They offer oval-shaped lazy rivers that are much more affordable. For instance, a 15ft x 24ft x 52in simple pool will range from $7,249.99 to $9,649.99. It comes with ladder, skimmer, pump and filter, hoses and connections.
Below are some of Above Ground Pools Experts' lazy river construction estimated costs:
| | | |
| --- | --- | --- |
| Size | Standard Cost | Lazy River Pool Cost with Current |
| 50ft x 100ft x 52in | $80,000.00 | $88,000.00 |
| 21ft x 61ft x 52in | $30,000.00 | $34,800.00 |
| 21ft x 41ft x 52in | $20,000.00 | $23,200.00 |
| 18ft x 33ft x 52in | $11,000.00 | $13,300.00 |
| 18ft x 30ft x 52in | $9,000.00 | $11,600.00 |
As you'll notice in the above figures, each pool price differs significantly. Therefore, it is encouraged you contact your suppliers, to obtain an estimate of your dream lazy river.
Suggested Features and Accessories
When designing a lazy river for your backyard, you will need to consider which features that are most important to you. You can include:
An island in a pool has unlimited possibilities. It can be an oasis of serenity encircled by the river. You can build a screen of plants along with an entry available only to those in the pool.
You can also put some chairs and umbrella inside the ring of trees, flowers, and plants. Or, a professional can install a hot tub, fountain, or soaking pool in the middle of the river.
If you don't want an island in the river, a grotto or cave with waterfall could be a stunning extension of your lazy river pool. You can employ it for family fun, or relaxation. You can even install a Television to watch inside the grotto.
A spectacular waterfall in the center island is perfect for a tropical themed pool. You can add rocks, palm trees, and fountain that fall away into the lazy river.
A Bridge Over the Lazy River
You can add a bridge that would extend over the lazy river to the island in the center. It will allow your family and friends to feel what it's like to be on the oasis. The material of the bridge could be wrought iron, bricks, or rocks, depending on your preferences.
Lazy River Pool Kit
If you have decided to have a simple lazy river to save some cash, you use a do-it-yourself river pool kit.
At Pool Warehouse, they offer lazy river pool kits that are American-made and a perfect DIY project. It will modify your backyard into a private resort, that comes with a 20-year warranty.
The kit includes:
Pool walls
Pool liner
Pool bottom
Corner Radius
Pool coping
Pool wall braces
Polymer pool step
Liner Over Steel Pool Step
Step Location
Pool Bench/ Swim Out
In Pool Spa
Spill Over Spas
Pool Step Jet Kit
Deck Jets
Below is an example of pool kit quote for a 44′ x 48′ x 48 Lazy river from Pool Warehouse:
| | | |
| --- | --- | --- |
| Options | Specifications | Price |
| Pool Walls | 42″ Steel | $ 14,995.00 |
| Pool Liner | Liner (30 Mil – Greystone Seaglass) | $ 495.00 |
| Pool Bottom | Non-Diving 7′ Deep End With 3'4 Shallow End | $ 100.00 |
| Corner Radius | 6″ Corner Radius | $ 150.00 |
| Pool Coping | Grey Cantilever w/ Foam Concrete Forms 20'x40′ And Up | $ 795.00 |
| Pool Wall Braces | Adjustable A-Frame With Cantilever Deck Supports & Stakes | $ 395.00 |
| Polymer Pool Step | 2'r Corner Step Cantilever With Bullnose Coping Kit | $ 795.00 |
| Liner Over Steel Pool Step | 16ft 18ft Or 20ft Wide Full-Length Step With 2 Benches | $ 2,895.00 |
| Step Location | Left Corner Of Pool | $ 100.00 |
| Pool Bench/ Swim Out | 11′ Wide X 6′ Deep Steel Radius Tanning Ledge | $ 2,495.00 |
| In Pool Spa | Cozy Cove Swim Up Spa (8ft Cozy Cove Plumbed With 6 Jets) | $ 1,550.00 |
| Spill Over Spas | With Bench Seats (Square Sterling Silver) | $ 3,495.00 |
| Pool Step Jet Kit | 4 Spa Jets With Air Intake | $ 195.00 |
| Deck Jets | Jandy Style Cmp (6 Deck Jets) | $ 450.00 |
| Total | | $28,905.00 |
Other Expenses
Moreover, lazy rivers will need various maintenance systems. Debris, trash, and contaminants go float along with the water current. You should practice with regards to maintaining your lazy river pool.
Homeowners have said that maintenance costs more than $500 per month to adequately maintain it. Other monthly expenses are chlorine, and maintenance of the pressure valves and pumps that keep your water flowing.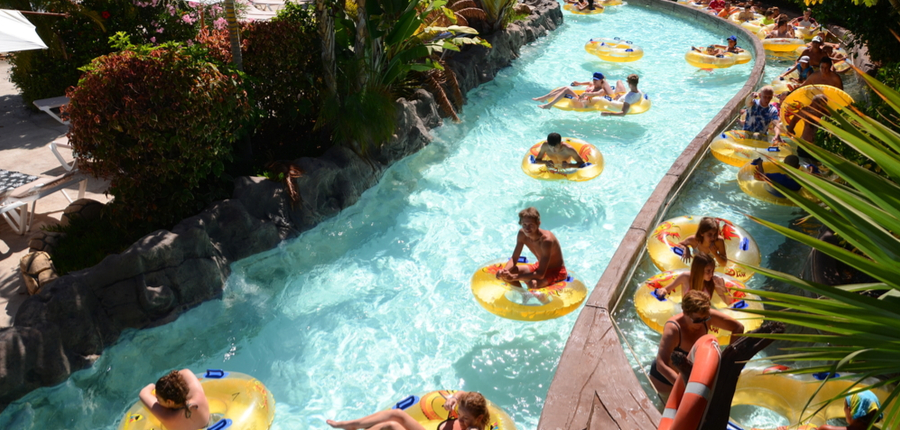 Financing Option
If you are not positive that you can fully finance your pool, some companies offer a variety of financing options, like debt consolidation or cash-back. Some are accessible to you, no matter what your credit situation is.
For instance, Sunshine Fun offers a 250 per month payment to start your dream pool.
They work in close collaboration with some of the biggest home improvement finance providers in the country. The Sunshine Fun local and conventional financing lenders include Prosperity Bank and The Bank & Trust.
Conclusion
Lazy river pools are a great addition to your home. But they can also accrue additional expenses, such taxes, maintenance costs and more. If you decide to get one, knowing how much your lazy river will cost can help you avoid unforeseen expenses.
Furthermore, it is recommended that professionals be the one to install your lazy river. They will have more than enough experience creating custom lazy rivers.