Safety and security have always been society's number one priority. People spend immensely to make sure they don't find themselves in disastrous situations.
Though not all disasters can be prevented, some like fire outbreaks can easily be resolved by having fire sprinkler systems. Buyers usually look for the cost of commercial fire sprinkler systems in stores near their local fire department, however, are always advised to have their areas checked prior to having the system installed.
Fire Sprinkler System Average Cost
For many, it is a necessity to have fire sprinkler systems installed but for others, it is considered as a luxury. The average cost of having a fire sprinkler system depends on the total area that will be covered under the system.
The fire sprinkler system price is a combination of prices from its components. This consists of sprinkler heads that cost $1 to $33 per piece, valves, and gauges that range from $9 to $55 a piece and of course the pumps and switches that cost almost $15 to $60 per piece.
Manpower services and setup will be quoted to you as a part of the installation process. The contractor's cost may range from $250 to $500 depending on the area. For some it may go up til $800 depending on the city and the length of time labor will be done.
The contractor's fees will be inclusive of city permit fees, inspection fees, and labor. Labor costs are charged per day. Depending on the contractor selected and the number of workers. The average rate per day may be $10 per worker.
With all the components priced per square foot of the area you will place under the system, the whole fire sprinkler system installation cost could go from a minimum of $15,000 up to $100,000. This may vary due to the square foot coverage. If a building would be more than 1 floor, then you will need to calculate the square footing of each floor and add it to the equation.
You would be able to compute an estimated cost by this formula:
Total area (ft2) x Price of material (ft2) + Contractor fees.
For example:
If your residence is a total of 2,700 ft2 and the sprinkler heads are $2 per ft2, plus the valves and gauges that cost $9 per ft2, and then adding the contractor's fee that could cost around $300:
Sprinkler Heads: 2,700 ft2 x (2) = $5,400
Valves and Gauges: 2,700 ft2 x (9) = $24,300
Add in the cost for the contractor and other fees: 5,400 + 24,300 + 300 = 30,000
Then the total price estimate would be $30,000 for a standard sized residential home.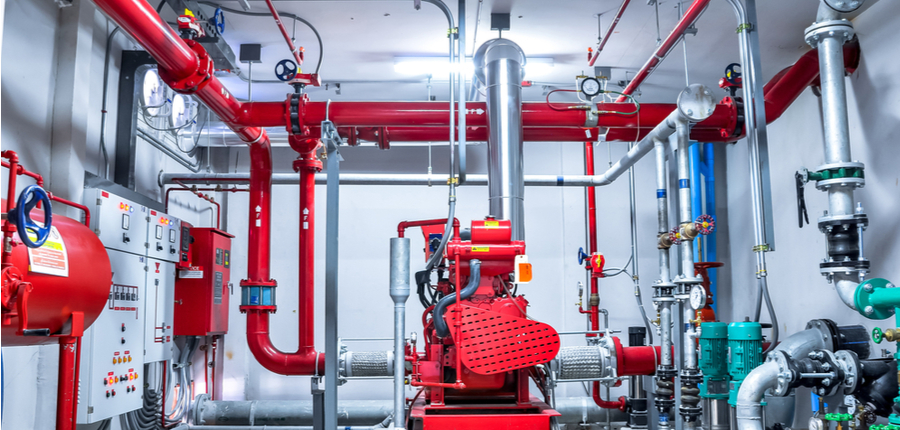 Inclusions
When having the fire sprinkler system installed, you are guaranteed to have the following items included in the quotation:
Stop Valve – this valve controls the water by stopping its flow in the system.
Valve Monitor – this component monitors the state of the stop valve whether it is open or closed.
Alarm Valve – based on a certain level of pressure, this valve releases the flow of water until the pressure is regulated.
Automatic Fire Sprinkler – also known as a sprinkler head, this triggers the valves and releases water once it reaches a certain heat level.
Motorised Alarm Bell – once the water starts flowing in the system, it hits an internal gong which is used to alarm the users within the affected area.
Other inclusions are pressure switches, flow switches, jacking pump or electric pump and alarm test valves. They all play a critical role in the process of activating the fire sprinkler system.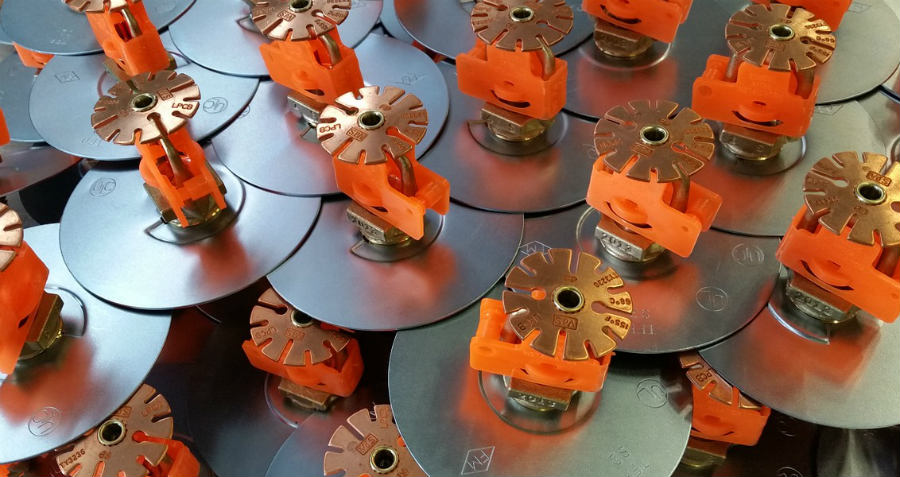 Other Costs to Consider
Though the cost of a commercial fire sprinkler system has multiple inclusions, you might want to consider the water consumption costs that may be incurred for each time that the system is activated.
You would also need to check the maintenance cost for the whole system. Monthly inspections are required by the law in order to ensure that the systems are well maintained. These inspections are done by professionals which may cost you around $150-$400 monthly depending on the city or area you are in.
You may also want to look into purchasing extra items such as fire extinguishers and non-flammable materials such as stucco to make your building more fire resistant.
Permit and inspection fees could range from $50 up to $800. This depends on the type of building and area that the contractors will be working on.
Take note that delivery will be quoted and charged separately.
Buying Tips
Here are some tips when having your fire sprinkler system installed:
Have your building inspected by a professional or by fire protection specialists to ensure that you are using the right equipment for your system.
The fire sprinkler system installation cost varies from the brand of equipment you choose. Make a good research on which brand can provide you optimum performance for the lowest price. Buying cheap items from an unreliable website could only cost you more if it can't last as long as the recommended brands.
Ensure you have the correct calculation of the area that will be covered by the system. Delivery fees can cost up to $300 and will charge you again if there are any miscalculations on the number of items you will be purchasing. It is also time-consuming as you would need to wait for another batch to arrive.
Fire Sprinkler System Cost Factors
Generally, fire sprinkler system prices are pretty expensive. Here are the factors that affect the cost;
Area or City – prices of materials will depend on the city you are residing in. This happens due to the cost of living in a certain area and not to mention the abundance of fire rescue teams present in the vicinity.
Water Source – most of the pipelines are connected to the city's main water supply however if you are in a remote area whose water is provided by a stored source, you will need tanks or water pumps and these may increase the cost of purchase.
Permits and Inspections – prior to having your system installed, you would need to have city permits in which your installer will get for you, however, the price of the work for the permit and inspection will still be yours to shoulder.
Weather Conditions – this factor can greatly affect the fire sprinkler system since the equipment will be supported by pipes. Excessive heat or flooding can wear out the material used for the piping. Keep in mind what kind of weather is present in your area in order to determine the type of pipes to be used.
What Else You Need to Know
It is required by law that for commercial or corporate buildings, all rooms be equipped with fire sprinklers. Pre and post inspection will be conducted to guarantee that the system will work smoothly and avoid causing any future problems.
In terms of installing a fire sprinkler system, you will be able to hold a bidding wherein the nearest contractors in your area may study your building and provide you with a certain quotation (this excludes permit fees as your selected contractor will be getting the permit prior to installation.). With you having the sample quotations provided, you should be able to get the most affordable contractor in the pool.
Insurance premiums are also offered for housing, and insurance can vary if there is a fire sprinkler system installed in your home. You may want to check your state or local insurance provider for quotations. Installing a fire sprinkler system prior to having housing insurance can get you discounts on the insurance quotation as well.
It is best to keep fire extinguishers for support in any event that the system may fail.
If you are planning to make any renovations, seek advice from the original installer of your fire sprinkler system. If there is any chance that your building or house may go through major changes, especially with the water routing, you would need to change the fire sprinkler system as well. Inability to do so may result to failure of the system or may render it useless.
Now that you are well-informed of how much a fire sprinkler system would cost, you may want to dive into some research and make your home safe, secure and fire –resistant!